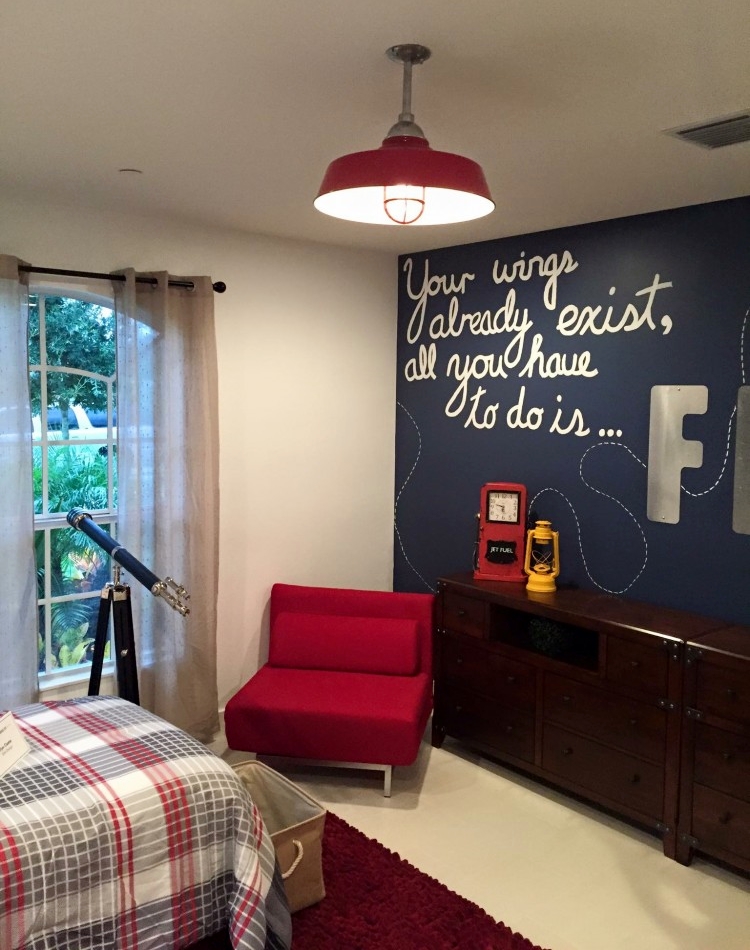 Vintage Industrial Theme Sparks Design for Kid Sanctuary
Every kid needs a place to just be. To be safe. To be loved. To simply be a kid.
The KidSanctuary Campus in Palm Beach County, Florida, offers exactly that — a place where the most vulnerable kids in the foster care system can thrive. Several South Florida interior designers recently collaborated with KidSanctuary to create rooms that not only give kids shelter but give them a place to dream. Today we talk with Eilyn Cueto, with Sire Design of Aventura, Florida, about the vintage-themed room she created for the campus.
Q: How did you get hooked up with KidSanctuary?
A: The ultimate luxury in life is to combine passion with contribution. A design colleague reached out to me and asked if I would be interested in creating a room for the boys' cottage and I immediately said yes! I have always wanted to be a part of something that would allow me to give back while doing what I love. It's the clearest path to happiness!
Q: Each designer worked on a specific room. Tell us about the room you designed.
A: I wished to have the whole house! Each designer is assigned a space, whether it be a bedroom, bathroom, patio, etc. I had bedroom #5. We all agreed on a color palette to ensure we coordinated, then we created our designs from there. This was by far the most rewarding project I've ever done. To me, room #5 will always have a special place in my heart.
Q: How did you decide on a theme for the room?
A: We always use a concept behind our designs and this project was no different. We wanted something to inspire the children in the room to remember "the sky is the limit" so we looked for a quote to reflect that. While creating a mood board for the space, I came across the quote "Your wings already exist, all you have to do is fly." I knew we'd found our concept!
Q: How did that theme inspire you as you chose décor, furniture, and the lighting for the room?
A: Living in Miami, we frequently work with contemporary interiors so we wanted to do something completely different. We decided on a vintage aviation theme and it was a breeze from there. We selected the color palette, materials, wallpaper finishes, furniture and vintage lighting to make the theme come to life. I wanted to include a vintage industrial look in some way and the moment I saw the Rochester Vintage Industrial Stem Mount Pendant Light I knew this was the missing element in my design. I simply fell in love! Design love!
Q: Why did you choose a porcelain enamel barn light for this room?
A: It provided the vintage industrial look I was going for. I wanted something different, something unique, yet masculine. I'm no cookie-cutter designer therefore I needed unique lighting that would represent the concept of the room to a T.
Q: Why did you customize this industrial pendant with the 18″ shade, Red finish, and the cast guard-and-glass option?
A: Our color palette for the room was white, blue, and red. We had lots of different shades of blue throughout the room and red was our accent color. I wanted something that was eye catching since the ceiling was completely white. The Rochester Vintage Industrial Pendant with the cast guard screamed "look at me!" It finished off the room with the vintage feel I wanted. I'm still goo goo over the final look!
Q: Now that the room is finished, what do you like best about it?
A: The light fixture is, by far, one of my favorite elements. I also love the chalk wall where our inspirational quote was drawn. We finished it with bold, metal letters that read FLY. We also included a telescope for the boys to see high into the sky. The reclaimed wood wallpaper provided another vintage touch and the studded metal nightstand provided the aviation element. The whole room design came to life by incorporating all of these elements into one space.
Photos courtesy of KidSanctuary Campus