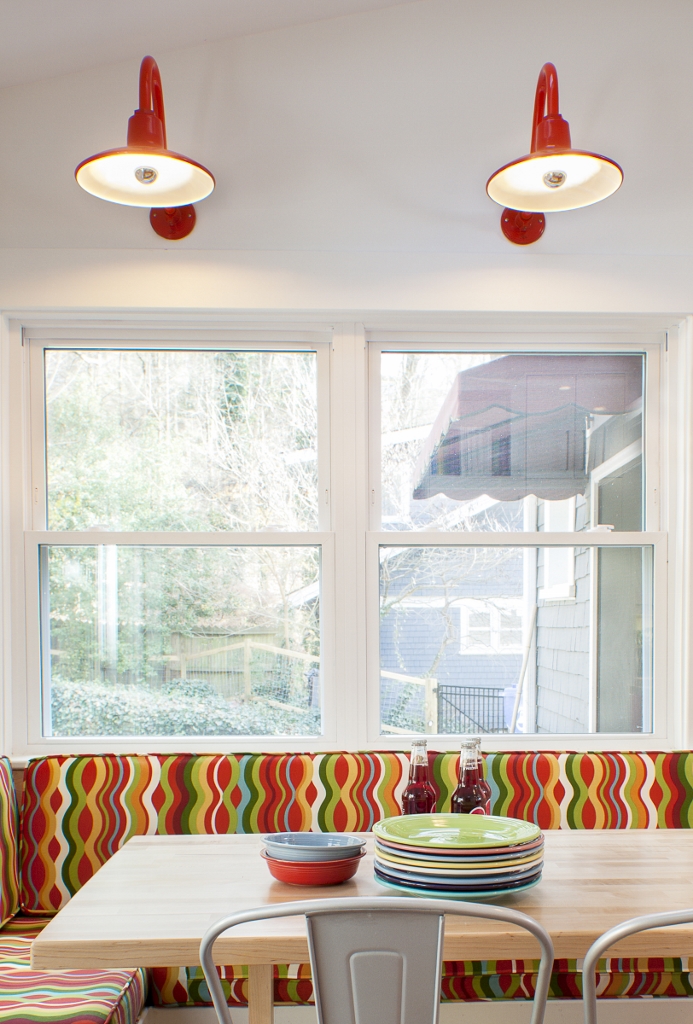 Colorful Gooseneck Lights Add Whimsy to Arts & Crafts Kitchen
It's a big decision to completely remodel your kitchen. And perhaps an even bigger decision when the current space isn't really all that bad. For an Asheville, North Carolina couple, the decision to rip out their current kitchen hinged on functionality. They both love to cook and the old layout just didn't work for two. Plus there was no eat-in area for their four kids to hang out while mom and dad prepped and served three meals a day.
The couple turned to best friend and interior designer Leslie Huntley of Roost Interior Design in Asheville to transform their kitchen into a functional and happy space they all could enjoy.
"They wanted a fun, bright, and organized kitchen," Leslie says. "They definitely wanted an island and they needed spaces for a lot of cooking equipment and kids' stuff. Kids come with a lot of stuff!" Leslie planned a mix of modern and vintage touches in the 286-square-foot kitchen.
"It's a 100-year-old Arts and Crafts home but we wanted a youthful, up-to-date look," she explains. In one corner, Leslie managed to squeeze in a banquette with seating for six. She brightened up the space with new windows and a sassy pattern for the banquette cushions. Overhead, two Dominion Gooseneck Lights provide a splash of color on the wall.
"I wanted to have the seating area be a whimsical space which is why I liked the idea of using the gooseneck lights," Leslie notes. "They have great curves, an exaggerated size for the space, and a fun color that picks up on the color in the fabric." Leslie customized these hand-spun, American-made wall lights with 12″ shades, an Orange finish color, and G15 gooseneck arms also in Orange.
Leslie has been serving clients in western North Carolina for eight years now and this project was recently featured as the Kitchen of the Week on Houzz.
"It's a bright, happy, and clean design. We like the fact that we made use of the full vertical space since it's not a huge space square footage-wise," she says. "It makes the room seem bigger. I love the bright colors against the white background."
Photos courtesy of Roost Interior Design and Matt Rose Photography