Professional's Corner | Q&A with Jewel & Ty Murray's Designer
If you've been following our recent Facebook posts, you'll know we've been dropping hints for days about the famous family we would be featuring this week. One of our fans finally guessed correctly on Monday — it's Jewel and Ty Murray — famous singer/songwriter and pro rodeo cowboy!

Kim Lewis, of Kim Lewis Designs and ABC's "Extreme Makeover: Home Edition," spearheaded the complete redesign of the Murray ranch in Stephenville, Texas. Thanks to Kim, we get an inside look at the home and, in particular, the lighting she selected! Today, we get an idea of the scope of the project and the exterior work, then tomorrow we will venture inside to see what lighting magic Kim worked there.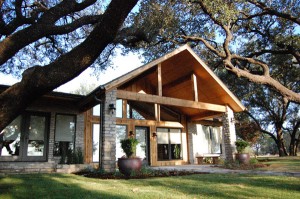 Q: Was this a new home or a remodel?
A: This project was a major remodel. We gutted the entire home from top to bottom and built on additional square footage.
Q: What was your design direction?
A: We wanted to combine Jewel's love of antiquities and eclectic things with Ty's love of the ranch itself. We decided on a "Rustic Bohemian" vibe that would combine interesting textures with pops of color along with furniture and accessories that tell a story.
Q: How important was the lighting to the Murray family?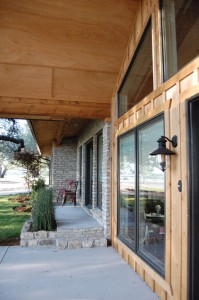 A: Lighting can absolutely make a space! It creates a mood, an atmosphere. For this home, we paid special attention to keep the lighting bright during the daytime but then warm and inviting in the evening.
Q: What did you select for the exterior lighting?
A: Settled within a beautiful oak grove, the architecture of the home is a "Texas ranch" with ledgestone and cedar. We used Barn Light Electric's Old Town Barn Lanterns on the exterior because they complement the vernacular and add a vintage charm to the rustic scenery. The lights feel like you just pulled them off an old general store!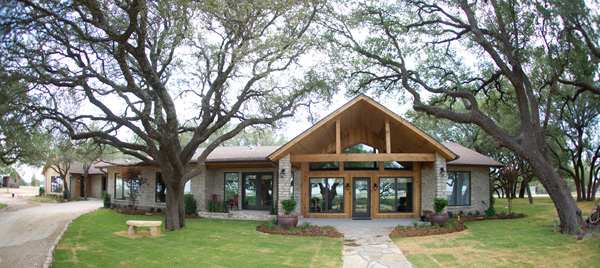 Photos courtesy Kim Lewis Designs