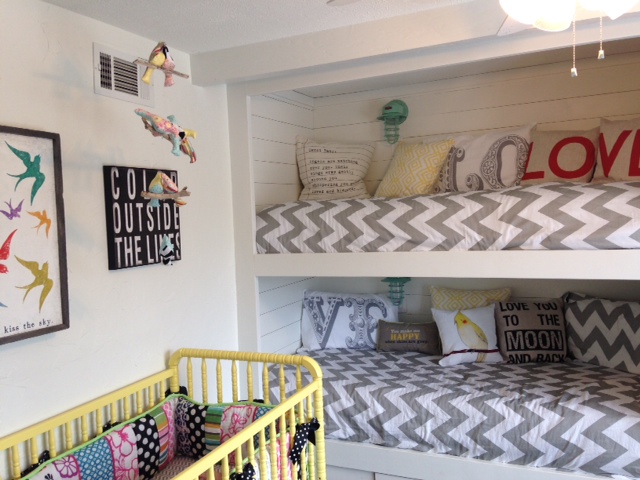 LED Lights Beat the Texas Heat with Color & Design
Growing families often find themselves getting creative when it comes to adding more children to the house. Jessica Sloan, owner of Coastal Kitchen & Bath in Victoria, Texas, recently turned her remodeling skills to her own home after her fourth child was born.
"We have a new baby so, with four girls, we had to consolidate children for lack of better words," Jessica says. "Four-year-old Lyrik and baby Piper are now together because the little one cared the least about sharing a room." Jessica, who has been building and remodeling kitchens and bathrooms for more than 10 years wanted the girls' space to be light, bright, and airy with function being first. She found the perfect fixtures to complete the new room in Barn Light Electric's Porcelain Enamel LED Collection.
"I chose LED lighting because of the heat," Jessica explains. "We live in South Texas and the room has a lot of windows and gets warm on its own. The LED option is perfect." For the reading nook, Jessica selected The Original™ LED Warehouse Pendant Light in a 14″ shade with a Jadite finish. She further customized this high-gloss, American-made fixture with a standard white cord and canopy, a 1250 lumen LED and a domed lens.
"The pendant completes the look in the room," she says. "The Jadite color highlights my older daughter's artwork that you see featured in the room."
While Lyrik really wanted a Disney Frozen room, Jessica says her little girl got more excited as the project went on. The bunk beds are especially cozy with plenty of pillows and reading lights. The Streamline LED Industrial Guard Sconce is a rugged fixture that can stand up to growing, active kids.
"Heat was a factor, but the other things I had to have in the bunk lighting were safety and, of course, aesthetics!" Jessica notes. "I can't have little hands and heads banging into most lights. This light was a very safe choice by design, in my opinion, and they are just spectacular to look at. Color and design!"
Jessica customized this rustic LED wall sconce with a matching Jadite finish color, standard cast guard, ribbed glass, and a 3500K neutral white color temperature. Working on a bedroom remodel was fun for Jessica since it deviated from the typical kitchen and bath projects she usually handles.
"They are my favorite clients to date and not just because I'm the boss of them," Jessica says. "The lights are my favorite feature in the room. Without these, it would seem very ordinary and the lights make it extraordinary." It looks like Lyrik agrees!
 Photos courtesy of the homeowner