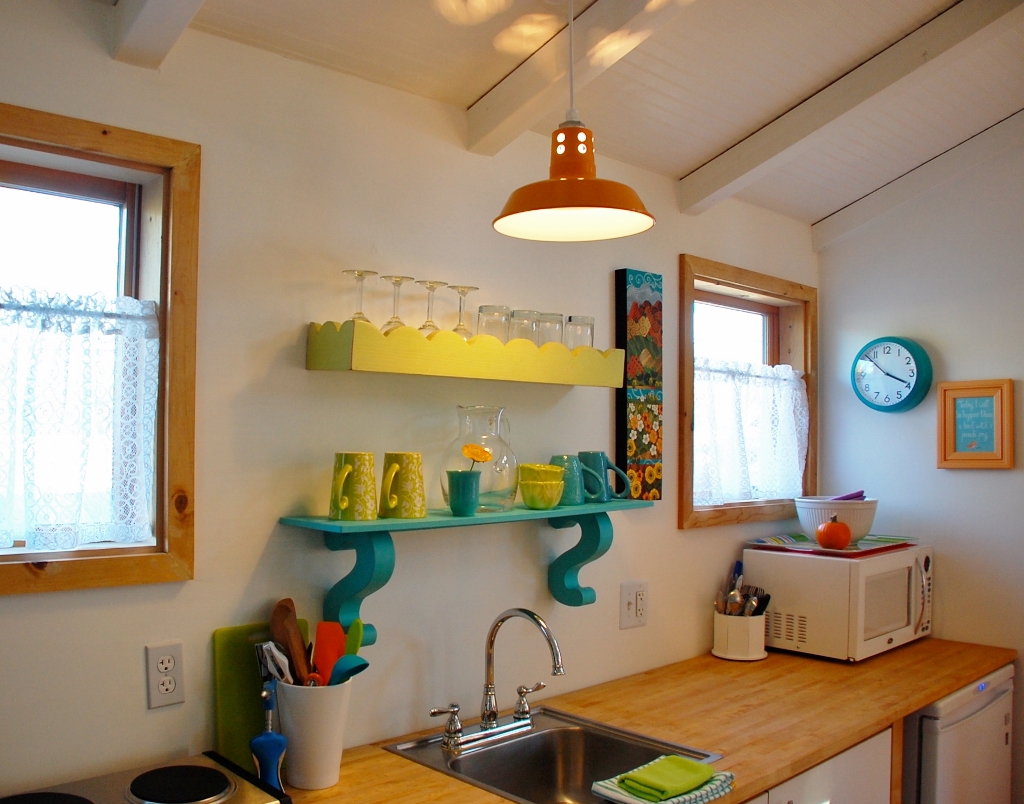 Vented Warehouse Light Adds Whimsical Pop of Vivid Color
When Claire and her husband Ken purchased a 1930s-era mud adobe home last summer in Patagonia, Arizona, they got a partially finished casita, or cottage, adjacent to the main home. The couple decided it would be the perfect getaway for people looking to enjoy the history, culture, shopping, and birding in this artsy and eclectic town.
"We just needed to do the finishing touches, such as paint, window treatments, furnishings and landscaping," Claire says. "The former owner had installed very basic, contractor-grade lighting and plumbing fixtures so we changed out all the faucets, four light fixtures, and two ceiling fans." Claire wanted to create a space that felt playful, happy, and crisp with bright pops of fun crayon colors.
She chose the Original™ Vented Cord Hung Pendant Light in a Sherbet Orange finish to highlight the kitchenette area.
"The Original™ Vented Pendant is a classic form which is pleasing and balanced in its proportions," Claire notes. "I was attracted to the circle vents because they mimic bubbles and polka dots — fun!" She was also attracted to nostalgic and vintage vibe of the Barn Light Electric fixtures.
"They harken back to that Route 66 aesthetic," Claire says. "That flavor permeates the architectural vernacular here so it felt right." Claire customized her new ceiling light with a standard white cord and canopy which allow the pop of orange and the form of the shade to take center stage in the space. The Original™ Vented Pendant is handspun from commercial-grade aluminum then finished by hand right here in America.
"I wanted to lead with the lights instead of them being an after thought. They're the punctuation marks in the space," Claire notes. " Life can be so serious; why not have decor that's full of whimsy?"
Claire admits that she is a sucker for knowing all about the products she purchases. She did her homework on Barn Light Electric and liked what she saw.
"I loved seeing the behind-the-scenes videos and I appreciate the quality, artisan-level craftsmanship," she says. "I resonate with people who are passionate about what they do, thus bringing a particular quality of attention to their creations that is evident in the finished product."
To learn more about Casita Encanta, be sure to check out Claire's blog that describes the cottage, the surrounding area, and local events.
Photos courtesy of the homeowner