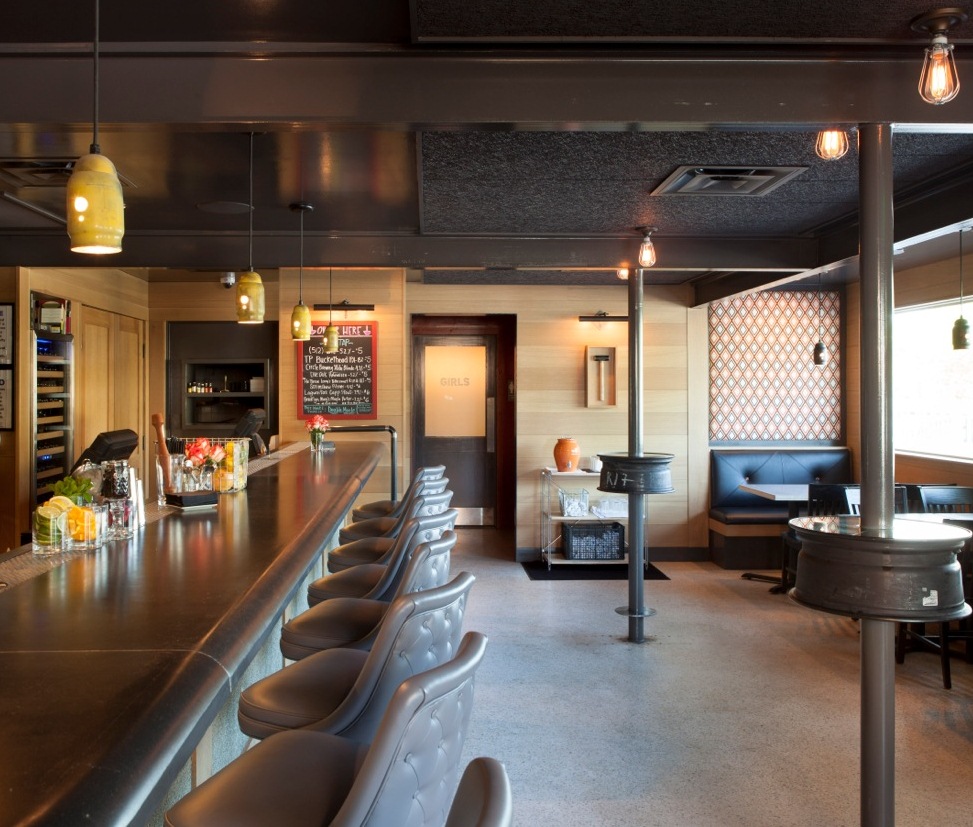 Professional's Corner | Interview with Architect Cindy Black in Austin
Drink. Well. Two words — plain, simple, and direct — and the name of one of the newest pubs to spring up in Austin, Texas. We talk with architect Cindy Black, who worked on the project with husband and fellow architect Rick Black, about the new space which features some beautiful vintage industrial lighting.

Q: Was this a new building or a remodel?
A: This was a renovation of an existing 1960 commercial building located on 53rd Street which is known for its eclectic mix of vintage shops, alternative retail venues, and great local restaurants.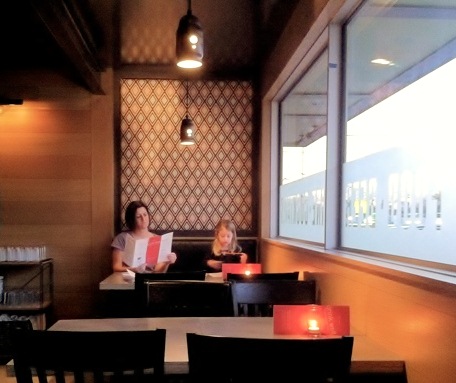 Q: What was the design direction the owners wanted to take for this space?
A: The overall goal was to create a neighborhood pub that was a comfortable space with an urban edge. This meant incorporating warm finish colors and slightly worn or industrial fixtures. Some structural steel was needed after we removed the interior walls, so we turned this into a design feature. Exposed I-beams line the ceiling and steel columns support metal car rims that create additional "tables" for the space. Hand-painted accents also give character and texture to the space such as the brick wall mural and the black-and-gold lettering on the restroom doors.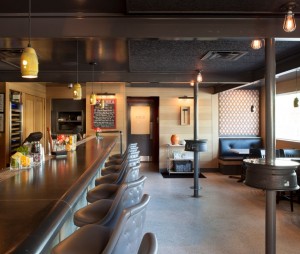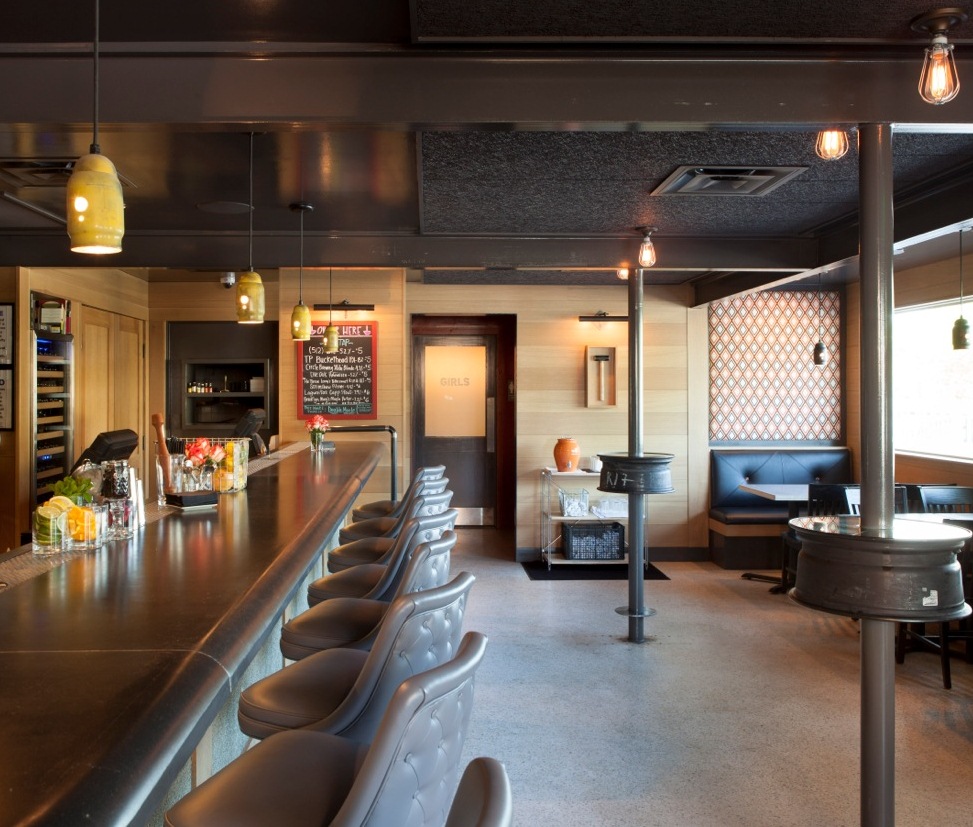 Q: Why did you choose barn style lighting for the pub?
A: The barn style lighting fixtures convey a vintage Americana style with familiar shapes and materials. We also loved the finishes available such as the worn paint on the Mig Pendant and the Rubbed Bronze on the Triple Warehouse Diffuser.
Q: Do people comment on the Mig Pendants over the bar?
A: The Mig lights are just perfect for bringing punctuations of warm light through the holes on the side. It's a familiar object that most people don't quite recognize unless they've been around welding before. There was much discussion about which Mig color we would choose — but we love the yellow! It's a great color accent for the space. We also used the grey Migs where less accent was needed to contrast with the diamond patterned fabric (see top photo).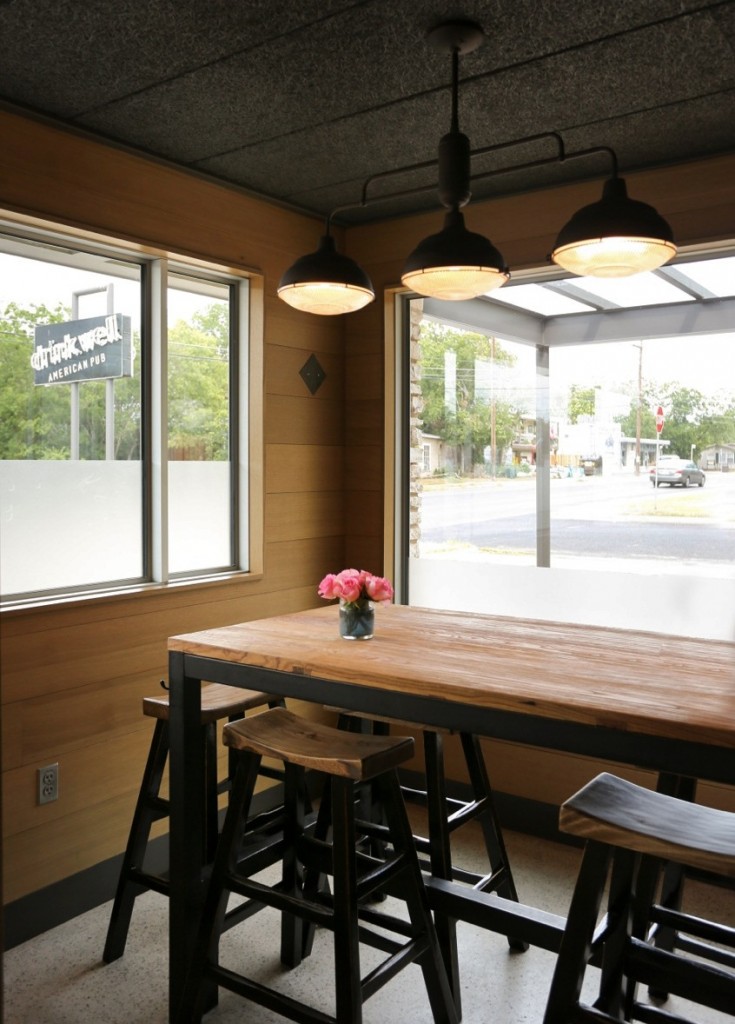 Q: Now that the lights are up and the doors are open, what do you like best about the lights?
A: We really loved being able to get some warm incandescent fixtures that feel more like candlelight. The Triple Warehouse Diffuser provides a canopy for the big six-person table giving character and definition to that alcove.
Photos courtesy of:
Rick and Cindy Black, Architects, Project Designer
Whit Preston Photography
Red Arc One, Architect of Record
Franklin Alan, Contractor