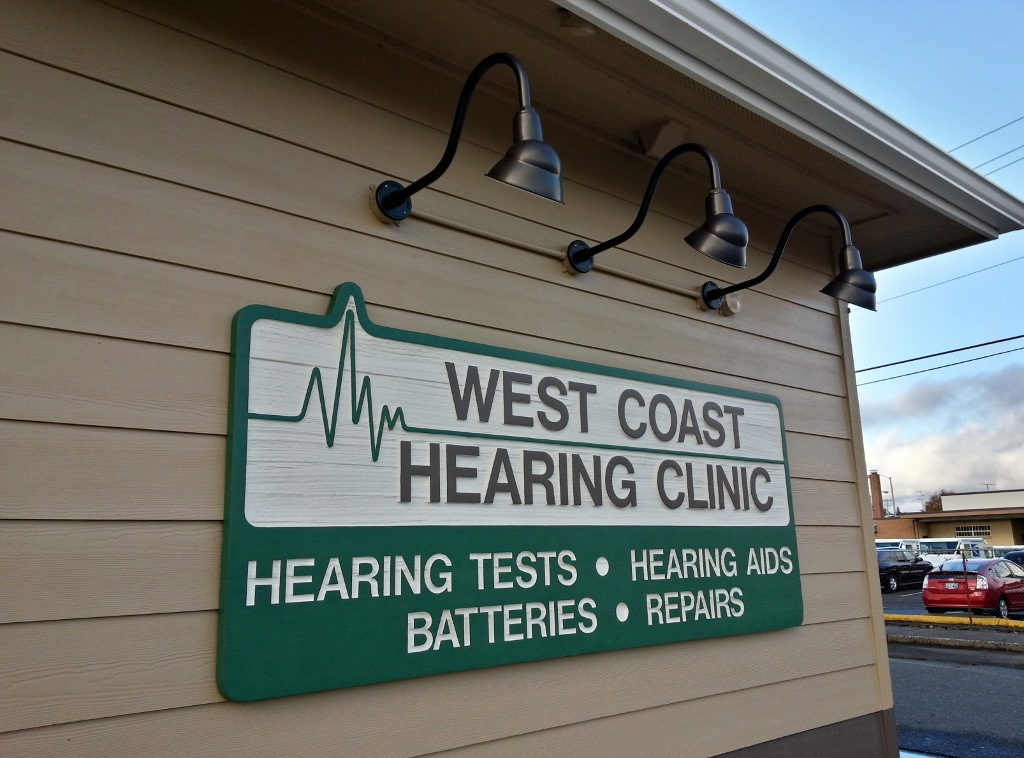 Emblem Sign Lights Provide Safety, Style in Alleyway
Any professional will tell you that repeat clients are often the best. A relationship has been established, personal nuances ironed out, and it's like old friends getting together to discuss a new project. Krister Lile, owner of Plank Island Studio in Aberdeen, Washington, was thrilled to hear from his friends at the West Coast Hearing Clinic when the need arose for some commercial sign lighting at their new location.
"We overhauled the public portion of their home a few years ago and when they began exploring a new location, they brought us in to make everything work in terms of design," Krister says. The project is a back alleyway where the owners and staff park and where HVAC and garbage service take place. The clients wanted everyone to feel safe coming and going plus they wanted the alley to look as pulled together as the rest of the property.
"You can see this particular face of the building for blocks so the alley was just as important to them in terms of aesthetics and character as the rest of the building," Krister explains. "We needed a look for the sign lighting that was professional and commercial while comfortable and welcoming but not residential."
Krister chose six Emblem Sign Lights in a handsome Bronze finish for highlighting the clinic sign. The 8″ shades are installed on a G22 gooseneck arm which sports the matching Bronze finish.
"It was a matter of getting the perfect evenness of light on the sign with just enough glow around and reflecting off the sign into the parking area without seeing any hot spots," Krister says. "We installed a threesome over the sign then mirrored that at the other end of the building where they work more as wall washers than actually lighting a sign."
Over the door, Krister chose an Original™ Warehouse Gooseneck Light which, as he says, was a no-brainer. He chose a 14″ shade in the same Bronze finish as the Emblem Shades.
"It's the perfect look. Simple round and broad light distribution going downward, and, from a distance, provides a more interesting rhythm of nighttime light in terms of the whole composition," he notes, adding that he chose Bronze because it was dark enough that the fixtures look very solid without having to use black fixtures.
"I think the clients love not thinking about the fixtures," Krister says. "It's almost obvious — like they have always been there. Light is everywhere it should be and nowhere it shouldn't."
Photos courtesy of Plank Island Studio