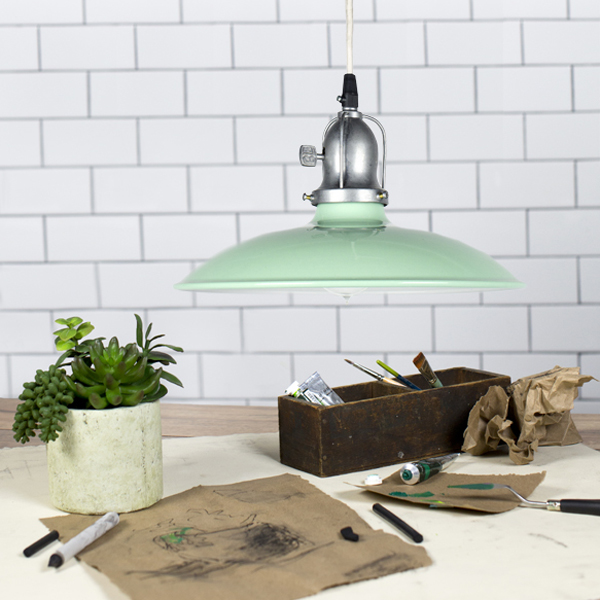 New Spoke Top Utility Lights are Ready for Any Task
We're excited to roll out two more additions to the site this week, the new and improved Chestnut Collection and our special "spoke top" pendant light fixtures.
Inspired by turn-of-the-century utility lights, our Spoke Top collection features classic cord-hung shades with intricate metal guards that protect the cup and socket. Who would have thought that rugged factory lighting accessories would be considered charming kitchen lighting? For a little industrial edge, select the spoke top as a custom option for our Fargo or Homestead cord hung pendant lights. Find out how these fixtures are more than meets the eye after the jump!
One of the special features of this historic light fixture is the practical function behind its unique spoke arm. Originally, task lighting had to be durable enough to handle the job of illuminating factories, manufacturing sites, and assembly rooms. With workmen assembling products ranging from home appliances to delicate watches, good lighting was essential. The vintage industrial Caged Pendant Light's open and airy design was appropriate for illuminating larger spaces. Small hooks were added so, when needed, workers could move the fixture out of the way.
In smaller spaces, powerful bare bulb pendant lights emitted a strong glare, which posed a problem for extended periods of use–especially when hung closely to the workman's desk. Enter the shallow bowl shade light! Reflector shades provided the right amount of task light while shielding the worker's face from glare.
The skinny cage around the socket not only protects the socket from the elements, but creates a handle for wall mounting. These reflector lights can be transformed from helpful pendant lights to targeted reflector fixtures. A shallow shade like the Fluted Shade Light makes a great addition to home offices with its ornamental, grooved shade and multifunctional mount!
Customer Wendy had the right idea when she hung the Fargo Pendant as lighting over her bar area. Her desire was to channel an all-American look through nostalgic light fixtures. With made-in-America period lighting like those, it is hard to go wrong!