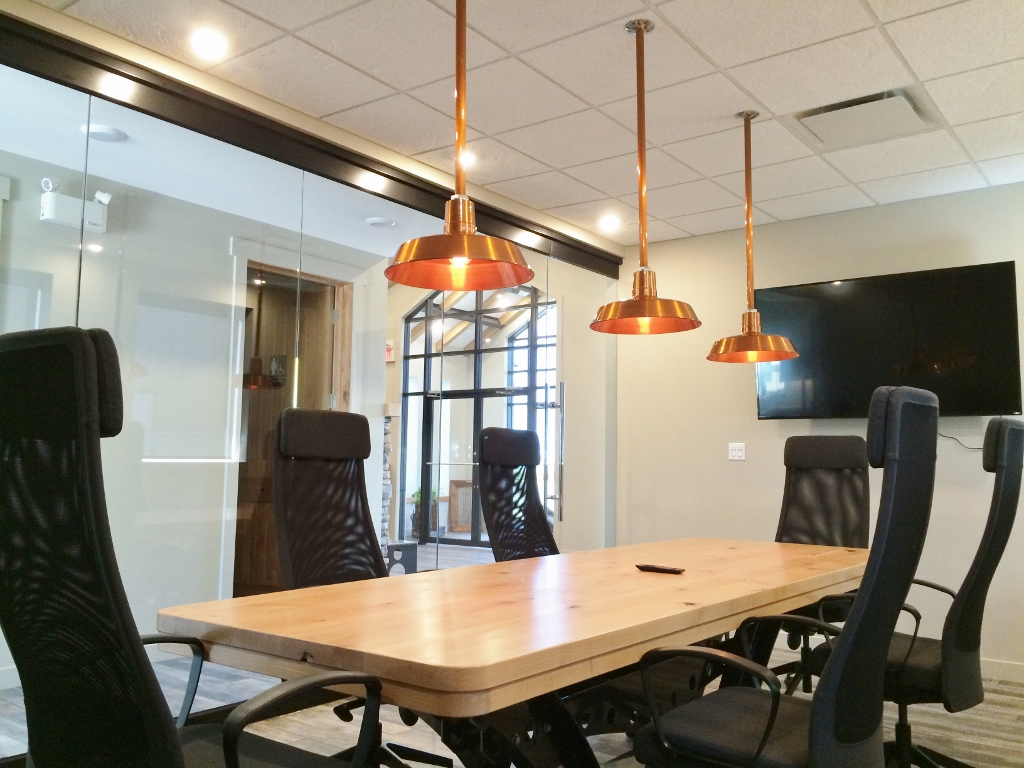 Copper Pendants Add Warmth, Elegance to Office Setting
The words warmth and elegance are rarely used to describe an office. But when Luke Dubbeldam designed the office spaces for a client in the seed potato business, he suggested copper pendants to bring those very characteristics to this busy work space.
"The design direction for the project was a warm industrial style," says Luke, owner of Iron and Wood in Edmonton, Alberta, Canada. "We wanted simple, good, solid materials to be evident — copper, hot rolled steel, alder, Douglas fir."
Luke's firm not only designed the office spaces but built custom furniture throughout. In the boardroom, Luke chose three Original™ Stem Mount Pendant Lights to serve as a focal point and light source above the handcrafted table. These copper pendant lights are customized with 16″ shades, a Raw Copper finish, and 24″ copper stems.
"I steered the client in the direction of the Original™ Stem Mount Pendants as I thought the vintage industrial/farm styling of this pendant fit their business," Luke notes. "It was important to have a real copper light fixture produced in North America."
These pendants are hand spun from solid copper in our Florida manufacturing facility and are available in three sizes with multiple finish and mounting options.
On the exterior of the new building, Luke chose matching Original™ Stem Mount Pendants but customized these with Black stems instead of copper.
"The black stems fit with the gable feature I designed for the exterior front entryway," he explains. "I integrated the pendants into custom steel knee braces that are part of the gable feature." These pendants also feature the Raw Copper finish on 16″ shades with 6″ stems and heavy duty canopies.
"My clients were very happy with the copper pendants, and they really add a nice pop to the interior and exterior of the building," Luke says. "I think the simple, classic styling is what we like best about them. They're timeless."
Photos courtesy of Iron and Wood