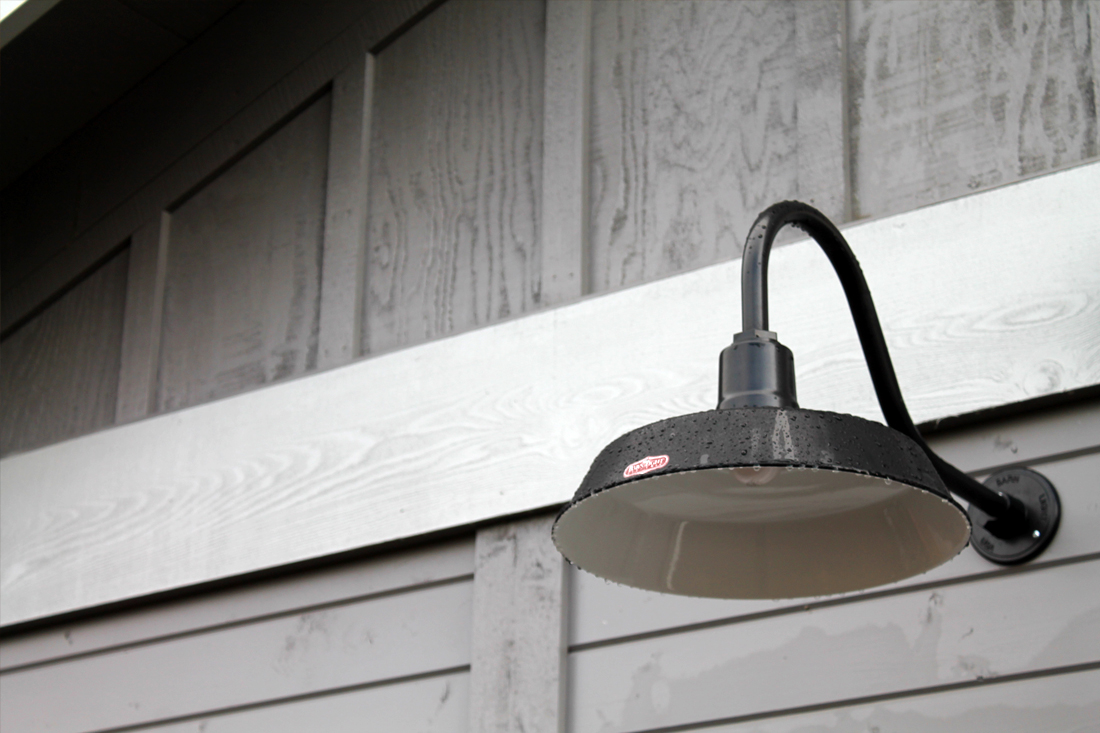 Classic Gooseneck Lighting for Oregon Barn & Workshop
While barns were once relegated to being nothing more than a home for cattle, horses, and perhaps the chickens, barns of today have become true multipurpose buildings with heated space for storage or even living space for homeowners and guests.
Our friends at DC Building, who specialize in custom barn homes and equestrian facilities, shared some photos recently of a project out in Sherwood, Oregon. This 60′ x 72′ gable-style barn features a 2,000-square-foot workshop, two horse stalls and a 32-foot cattle run.
When it came to choosing lighting for this new space, the owners opted for the classic look of gooseneck barn lights.
"The client wanted something that looked traditional and timeless," says project manager Bret Loftis. "They wanted to accent the barn with an authentic and traditional style." The homeowners chose the Original™ Warehouse Gooseneck Light to frame both the front and back doors of the building.
Bret helped select the 16″ shade mounted on a G22 gooseneck arm because those sizes best fit the scale of the barn. The lights feature a durable, Black powder coat finish.
The roof of the barn matches the owner's existing home on the property and is capped by a custom cupola. The exterior also features tongue-and-groove siding with batten and board on the gable end.
The American made gooseneck fixtures cast plenty of downward light onto the entryways and are equipped with a dusk-to-dawn photocell that allows the lights to come on at dusk and turn off at dawn. This popular option saves a long walk in the elements to flip switches and assures that the lights are on, and off, whenever the homeowners are away.
"The gooseneck lights complement the barn even better than we both thought they would," Bret says. "This client appreciated the traditional nature of this type of light. They liked Barn Light Electric because of the ability to completely customize their lights, from the color to the type of shade, the stem, the arm, everything."
Photos courtesy DC Building