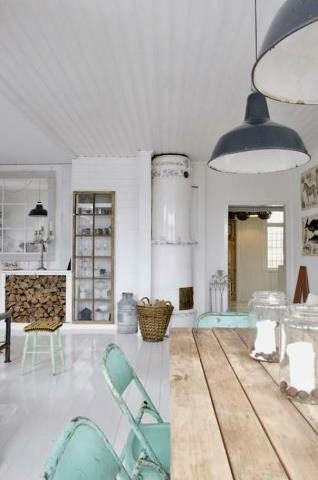 Porcelain Warehouse Shade for Industrial Farmhouse Kitchen
The clean, no-nonsense style of the industrial look has stormed the front porch, marched into the living room, and made itself right at home. This unpretentious style can be found in homes ranging from tiny city apartments to the sprawling mansions of the rich and famous and is marked by a minimalistic feel accented by unique pieces that are most often flea market finds, not the big box bargain-of-the-week. The industrial style has found a legion of fans in residential design, but commercial developers too love its raw, clean lines and have adapted it to retail settings, office spaces, and institutions.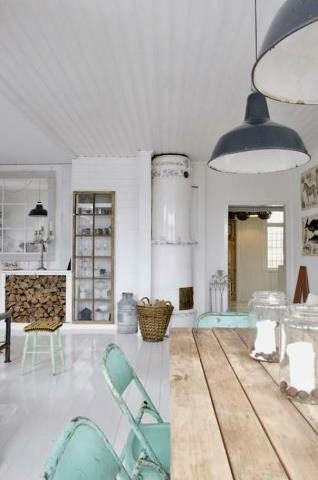 An industrial color palette is often cool in shades of gray, white, and black with pops of color here and there. This combined dining and living space, for example, uses white as a base, but the textures in both the ceiling and floor add visual interest as does the wooden farm table surrounded by vintage aqua folding chairs. We also love the blueish-gray color of the cord hung pendants over the table. While still a cool tint, the darker color becomes a real focal point in the space as does the black warehouse shade in the background of the photo.
These pendants are similar to our Ivanhoe® Dino Porcelain Cord Hung Pendant, an American-made fixture with its own history in our country's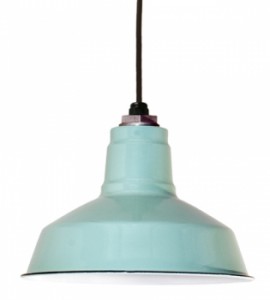 manufacturing scene. These porcelain lights were often used in factories and warehouses where they would last for years under harsh conditions thanks to its extremely durable porcelain enamel coating. Today, you can enjoy the same quality of light in your own home or business with our hand-crafted fixtures. The Dino comes in two shade sizes and nine gorgeous porcelain finish colors which will never fade and are easy to maintain. And don't miss the dozens of ways you can customize this light with options such as cast guard and glass, a wire cage, and a variety of cord colors.