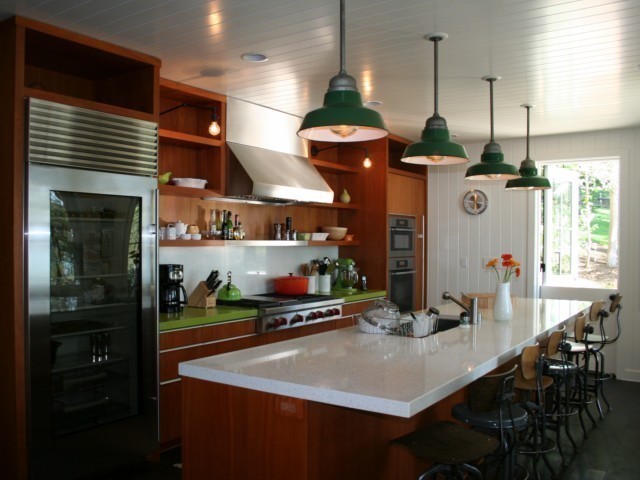 Porcelain Pendants for Updated Nevada Lake Home
While we love all things "vintage" here at Barn Light Electric, sometimes an older home just needs updating. Such was the case for this 1960s-era structure in Glenbrook, Nevada which recently underwent a transformation. The homeowners went from a dark, outdated interior into a 3,700-square-foot, light-filled lake house. While freshening everything from the walls to the furniture to the lighting, the homeowners turned to the past for inspiration and installed reclaimed redwood bath consoles, recycled glass countertops, and repurposed furniture.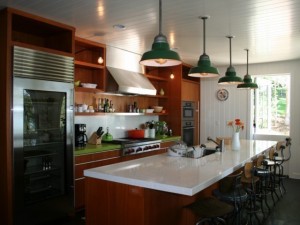 In the kitchen, sleek stainless steel appliances are offset by warm wood cabinetry, the bright walls and ceiling, and cool green countertops. Vintage industrial stools tucked against the island provide a front row seat to whatever creation the resident chef has underway. The green is picked up again in the four porcelain pendants suspended over the center island. These porcelain pendants, similar to our Benjamin® 17″ Bomber Pendant, provide not only the perfect downsplash of lighting onto the eating area below, but give the kitchen plenty of character and charm as well.
The Benjamin® Bomber is the largest porcelain shade size available at Barn Light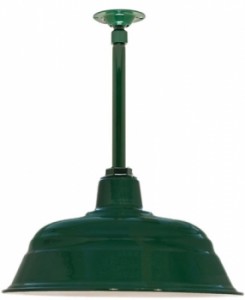 Electric and is fully customizable to suit your style and space. Choose from eight different finish colors from classic black or brown to sassy yellow or dreamy jadite. After being hand spun from raw steel by master craftsmen, your American-made light will receive a hand-applied glass coating which is baked on at a very high temperature to create one of the most durable finishes you can buy. The stem on your fixture can also be customized with lengths ranging from six inches to four feet long. The stem can be black, white, brushed aluminum, or, as shown here, painted to match your shade.
With the hardness of steel combined with the porcelain enamel coating, your Benjamin® Bomber has the durability to last a lifetime.
Top photo courtesy of Marnie Wright Design