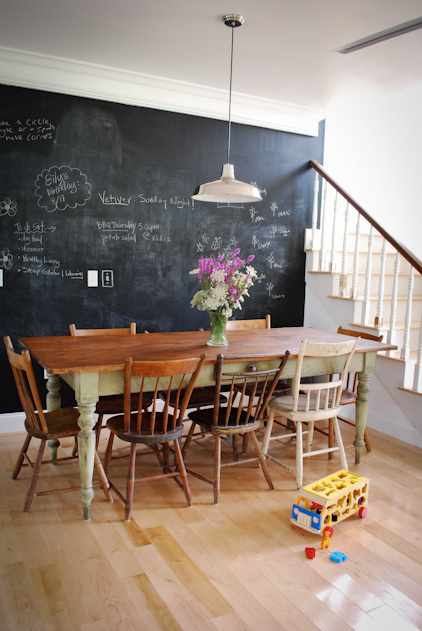 Porcelain Pendant Lighting Completes Farmhouse Feel
With the rise of the industrial farmhouse comes the growth of rustic, mismatched pieces. For example the chairs at this vintage dining table have similar features, but differ in finish and size. The dining table itself even has a contrasting look between the butcher-block tabletop and the light, worn wooden base. Old school designers would consider the setting to be a huge faux pas, but to the newly trained eye, this table practically shouts country delight.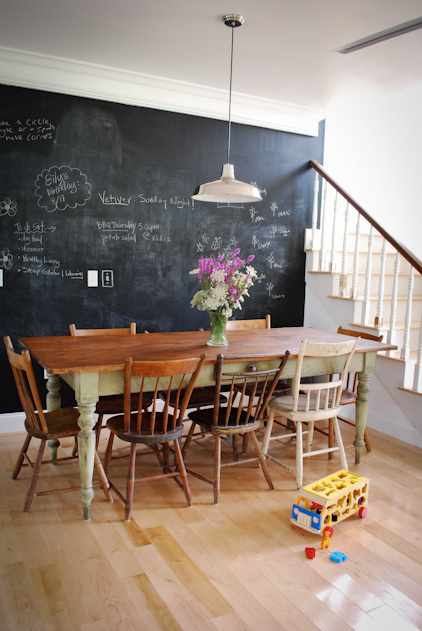 Other fantastic characteristics of this dining room include the chalkboard wall as a focal point, and the blond wood floors. (Literally) topped off with warehouse pendant lighting, this dining room has an open, inviting feel – somewhere that wouldn't be a hassle to get the family together for dinner. The chalkboard wall is perfect for not only home school lessons and art projects, but also for adults when entertaining on the weekends!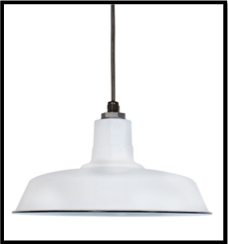 The barn pendant above is also used as a focal point for the room, but isn't fighting for attention. Resembling this cord hung pendant is the Ivanhoe® Sky Chief 16"Warehouse Porcelain Pendant. The warehouse pendant light is popular for a farmhouse dining room, as it is simple and stylish, yet still super functional. By featuring a baked on, porcelain enamel finish, the Sky Chief is ideal for a high traffic setting such as this. The porcelain coating is easy to clean, considering the chalk dust that could accumulate on its surface!
The long-lasting, versatile styling of Ivanhoe® Porcelain Pendant Lighting should make you reconsider the typical chandelier options over a dining room table. With the ability to produce nearly the same amount of light, they can come at a fraction of the cost of some chandeliers! They will grow and flourish with your family as well as design tastes, fitting in seamlessly with any concept you come up with!
Top Right Photo Courtesy of Apartment Therapy