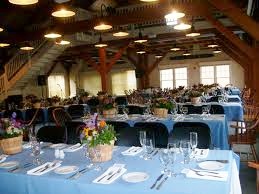 Porcelain Goosenecks Lend Style to Historic Shipyard
Bath, Maine is a city rich in shipbuilding history. One of the most popular tourist destinations in Bath is the Maine Maritime Museum located on the scenic shores of the Kennebec River which boasts an active waterfront even today. The museum is an historic shipyard that includes five original 19th century buildings where visitors can explore and learn about the colorful history of Bath, its shipbuilding industry, and life at sea.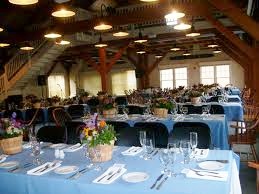 One of the museum's buildings, Long Reach Hall, is a timberframe structure built with the time-honored craftsmanship reminiscent of the city's long line of ship builders. While massive timberframe supports create the backbone of the facility, dozens of porcelain gooseneck barn lights hang from the rafters giving a nod to the past while serving in a modern, updated facility that hosts weddings, receptions, and other formal functions.
Porcelain gooseneck lights, such as our Goodrich® 17″ Bomber, were originally used in shipyards, factories, and other industries before becoming a popular fixture on the agricultural scene. With their expansive shade size, these lights provide a generous span of light on any work or play area. A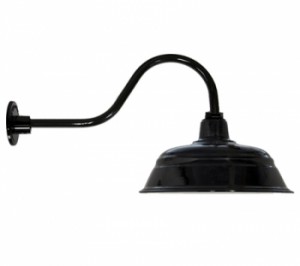 t 17″ wide, the Bomber is the largest shade offered by Barn Light Electric and is also the deepest making it the true workhorse of our gooseneck collection.
Like all of our American made porcelain enamel fixtures, the Bomber is made from commercial grade steel to provide the best quality available today. The porcelain enamel coating makes these lights truly special because they will provide a lifetime of use. The super tough glass finish can withstand any kind of weather or splashes from industrial chemicals, and will retain its shape, color, and texture for years to come.  A simple soap-and-water solution makes cleaning a breeze.
Barn Light Electric is the exclusive US manufacturer of porcelain enamel lighting styles including Goodrich® Gooseneck Lights, Benjamin® Stem Mount Lighting, and Ivanhoe® Pendants.
Top Photo Courtesy of Belle Fete Group