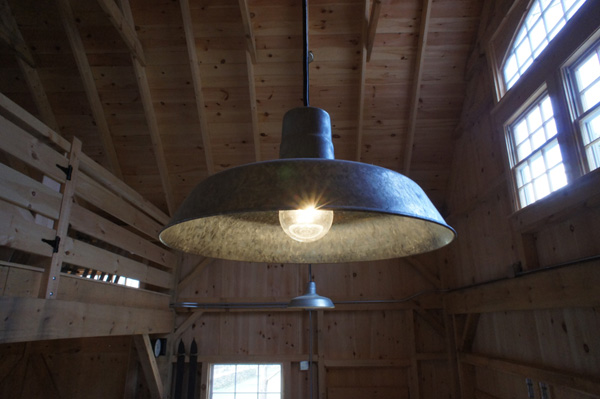 Rustic Barn Lights for New Barn Construction
What John needed was a big old barn. He had an extra vehicle to store, a lawn mower, and gardening equipment but nowhere to put it at his Connecticut home. He also wanted a workshop and a place to just hang out and maybe throw a party. But John didn't have a big old barn. So he built a big new barn instead. And once the post-and-beam structure was finished, John knew exactly what it needed — barn lights, of course!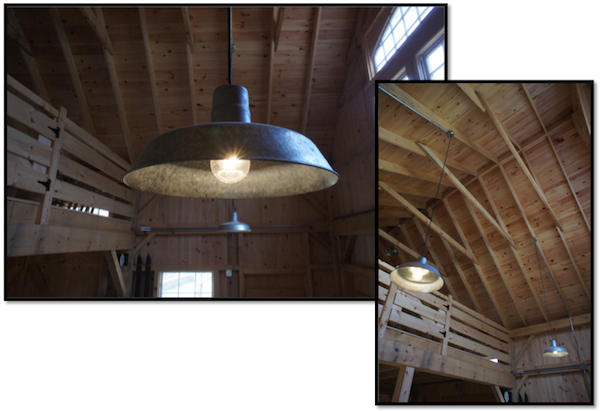 "I wanted rustic fixtures that looked old and gave it that feel," John says. "I also really like that 1940-1950 style of porcelain shades." On the interior of the barn, John chose the 16″, black cord-hung Original™ Warehouse Pendant Light in a Galvanized finish. These fixtures easily illuminate the generous space inside the building. He also chose to use a half dozen Flush Mount Guard Sconce, also in a Galvanized finish, to provide light in the smaller spaces with lower ceilings where pendants wouldn't work well. The clear glass on this fixture ensures plenty of light while the guard provides protection from the activity below.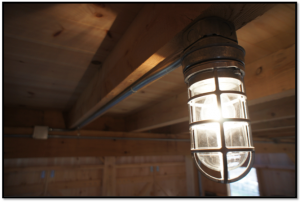 Outside John selected two Original™ Warehouse Gooseneck Lights to brighten up one exterior wall. The Original™ is one of our most popular shades for outdoor lighting because of its wide pool of light and its durable finish. Next to the doorway, John selected the classic Industrial Guard Sconce in a Black finish with clear glass. These lights will stand up to any Connecticut winter and light the way for many hoedowns yet to come.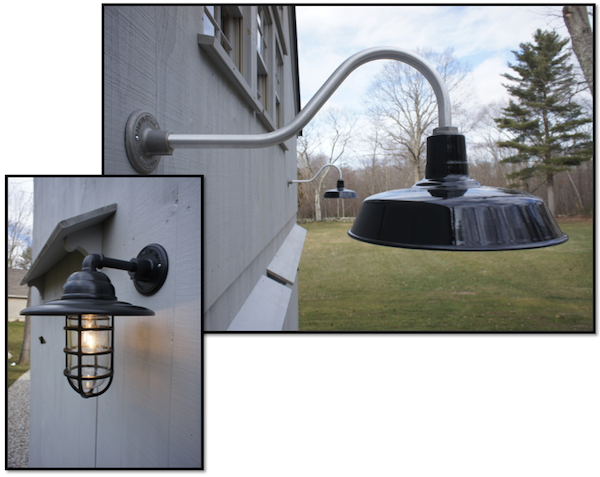 "Through all my research, I couldn't find barn and warehouse style fixtures with more options or for a better price than Barn Light Electric," John says. We're happy to have you as a featured customer John and hope to get an invite to one of those barn parties real soon!
Photos courtesy of the homeowner