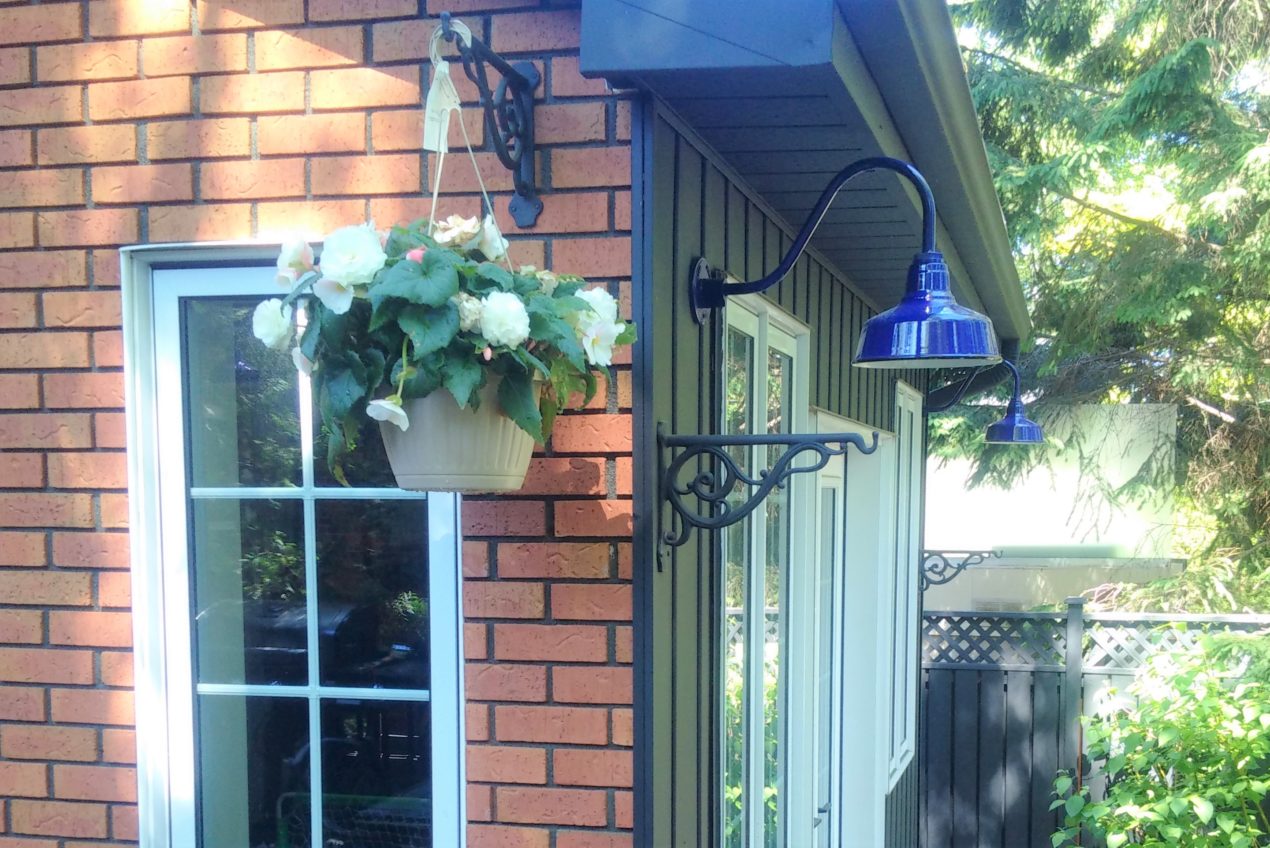 Porcelain Gooseneck Light Pops with Lively Color & Vintage Style
The word "remodel" strikes fear in the hearts of many. The process conjures up images of life interrupted with sawdust, plastic drop covers, and the smell of paint. Lighting updates, however, are one of the easiest changes you can make — often with dramatic results.
Today's featured customer, Jennifer from Toronto, has been slowly updating her home for two years and recently turned her efforts to the exterior lighting.  
"I wanted something colorful and fun in a gooseneck barn light," she says. "My main requirement was color." Jennifer searched online for barn lights and came upon the Barn Light Electric website where she found the custom features she'd been looking for.
"Our house is brick with a charcoal black trim and I needed a shiny color that would pop nicely," she notes. Jennifer was attracted to the high-gloss shine of porcelain enamel lighting which never fades and is simple to maintain.
She chose the Esso Gooseneck Light and customized this American-made barn light with a 10″ shade. The pop of color comes from the brilliant Cobalt Blue finish color which is also seen on the G11 gooseneck arm.
"I needed something specific for outdoor use and I liked the shape and design of the Esso," she explains. "After measuring the size with my tape measure, the 10″ seemed to be the best fit for the space. They add a lot of character to the wall."
The Esso is hand spun from commercial grade steel and coated with three layers of porcelain enamel glass. The shades are baked in a 1,500-degree porcelain oven to seal the glass to the shade creating one of the most durable finishes on the market.
A porcelain gooseneck light offers classic vintage style and is perfect for indoor or outdoor use. Customize with finish color, arm style, and add-ons such as a wire cage or dusk-to-dawn photocell.
"I love the Cobalt Blue color because it adds a fun, whimsical feel to the back yard," Jennifer says. "I am glad they are well made and will last a long time. Even our electrician said these are good quality lights."
Photos courtesy of the homeowner