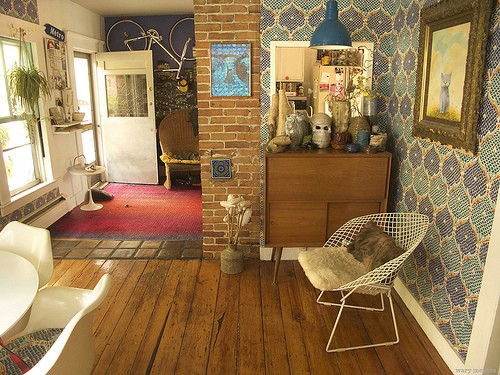 Porcelain Factory Pendant for Retro, Mid Century Homes
If you happen to be a frequent follower of our blogs, you know that (typically) porcelain barn lights are synonymous with modern farmhouses or industrial environments. We're switching it up on you today though…as much as we love a beautiful country home, retro and kitschy environments are fresh and fun!

Throughout the whole room, a variety of textures were utilized. Their vibrant graphic wallpaper catches your eye almost immediately, but is balanced out by an exposed brick column and rustic plank flooring. Mid century furniture adds to the retro vibe, making this small living area, a huge success.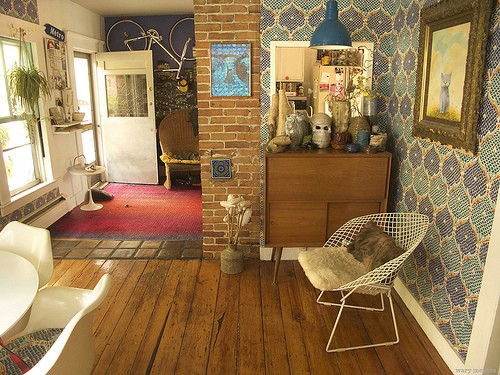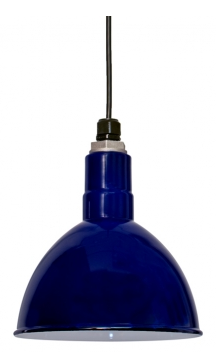 Spotted in the middle of the room is a lone wire-back chair. Ideal for cozying up with the latest issue of Atomic Ranch, these chairs are way more comfortable than you would expect. Over the chair and small buffet is a deep bowl RLM barn light. Almost identical to our Ivanhoe® Wilcox Deep Bowl Porcelain Barn Pendant, the cadet blue pendant light focuses light downwards to the pieces.
The Wilcox is a newcomer to our exclusive collection of porcelain factory lights. An authentic enameled light will last for decades. Their rich enamel coating is baked on, guaranteeing a fresh color for years – never fading like other painted light fixtures. Don't believe us? As proof, you should check out our wide variety of salvaged light fixtures online. Some are similar to the Ivanhoe® Wilcox, while others take after vintage warehouse shades and outdoor gooseneck lights.
The Wilcox Pendant is 100% American made. That's right, the interior, hand-spun steel shade provides a rugged, solid core for use indoors or out. Continue the look throughout your home with the Goodrich® Gooseneck or Benjamin® Stem Mount versions; both are rated for interior or exterior use because of the protection provided to the interior wiring.
Top Photo Courtesy of the Wary Meyers