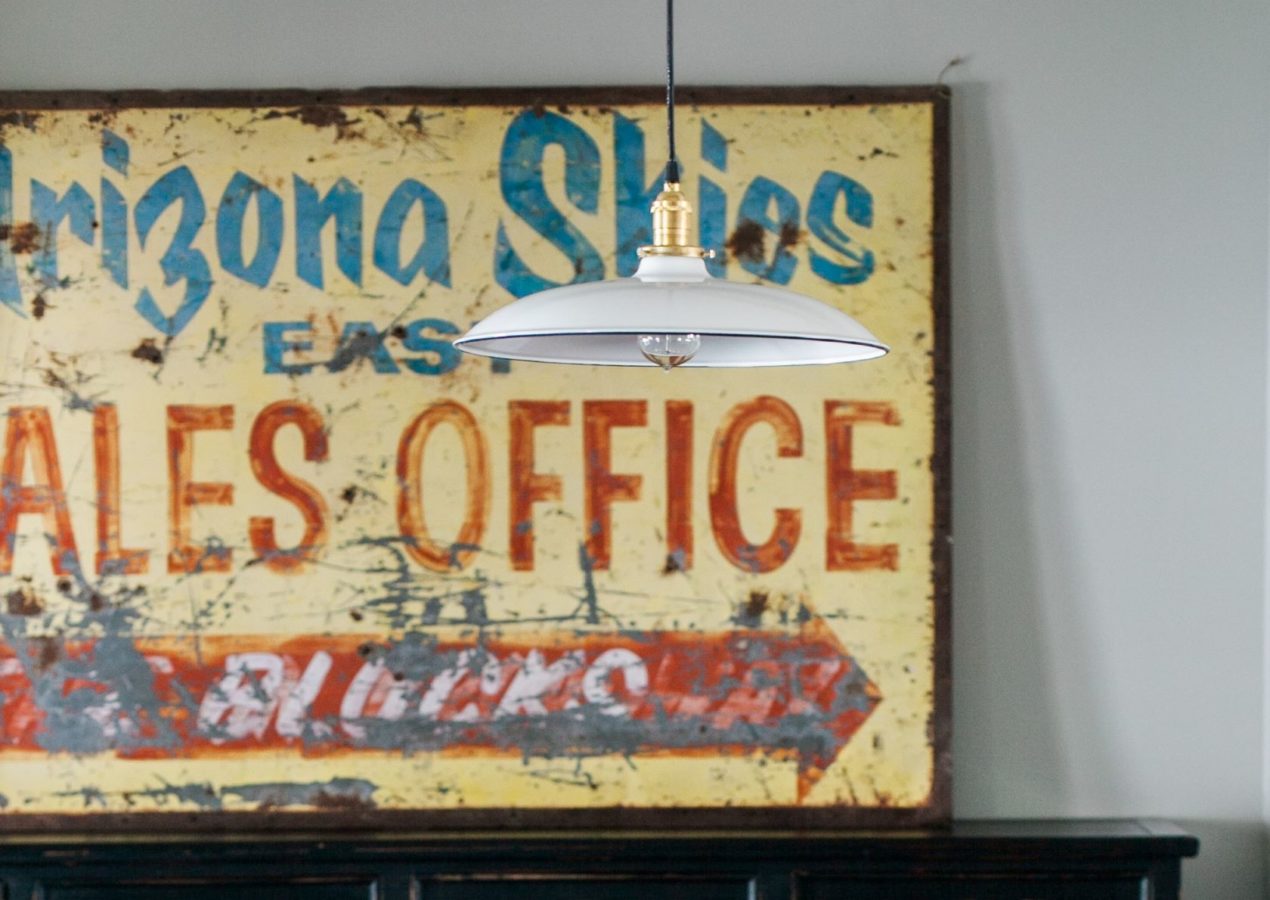 Porcelain Enamel Pendants Offer Vintage Style, Modern Options
Much of our inspiration for barn lights comes from the vintage designs of the 1930s and 40s. Porcelain enamel pendants from this era were handcrafted from the highest quality materials available to last for decades.
One of our most popular barn pendant lights is the Sinclair Industrial Pendant Light. Based on an original RLM warehouse shade, this simple, industrial style pendant features a shallow bowl shade with a rugged porcelain enamel finish.
This porcelain enamel pendant shows up in all sorts of settings but the kitchen seems to be especially suited to this style. The wide shallow bowl, available in four sizes, throws a wide beam of light onto counter tops, sinks, and kitchen tables.
Our porcelain palette of colors features an array of hues ranging from the traditional Vintage Green most often found on antique fixtures to brighter, more modern shades of Jadite, Metallic Chrome, and Delphite Blue. These colors help give a modern touch to these classic shades bridging both vintage and modern styles.
The Sinclair is also well-suited for commercial venues as seen here. The owners of Kindred, a café in Davidson, North Carolina, installed two of these pendants, customized with a Jadite finish, in their front window to attract attention.
And out in Iowa, the Northside Café features 10 White Sinclair Industrial Pendant Lights offering a nostalgic touch to this historic building. The porcelain enamel finish on these pendants is baked on and will stand up to these high-traffic settings for years to come with minimal maintenance.
For those on a budget or under a tight time frame, we offer Porcelain Factory Seconds which are fully functional and deeply discounted. Because of the hands-on process of metal spinning and application of the porcelain enamel, minor faults and blemishes sometimes occur.
These blemishes may include small chips or variations in color but do not affect the functionality of the light. Be sure to check back often as stock changes frequently in this collection of Discount Lighting!