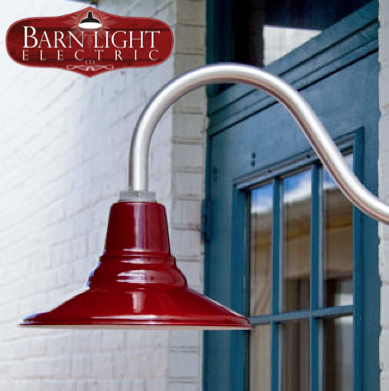 Porcelain Enamel Lighting: A Durable, Long Lasting Finish Choice
Porcelain Barn Lights have been part of American barn lighting culture since the early 1930's. Originally manufactured until around 1960, these shades were known for their long lasting and durable qualities. Popular uses for these shades included factories, warehouses, service stations, and agricultural areas. It was for the next 50 years that the porcelain enamel manufacturing process sat idle, but today, Barn Light Electric is proud to to continue this tradition through a unique range of porcelain lighting products.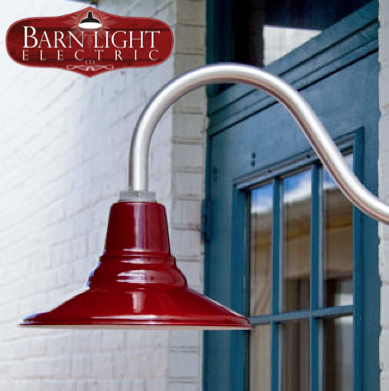 Our American-made porcelain lighting products are produced from raw steel to provide the very best quality that money can buy! Combining with an exterior coating of glass, these shades are one of the most durable and long-lasting selections on the market today. Choose from three current styles: Goodrich® Goosenecks, Ivanhoe® Pendant Lights and Benjamin® Stem Mounts.
You might still be wondering what the benefits are of choosing porcelain enamel lighting. What makes it so special? Is it worth the initial cost? Will it fit in with my home's design style? Keep reading!
1.) Easy To Clean
Unlike other painted finishes, porcelain enamel can be restored to its original condition by washing with mild soap and water. After five, ten, or even twenty years, porcelain enamel is the one finish that retains its original color.
2.) Resists the Effects of Time
Porcelain enamel successfully resists harsh weather and work conditions; extreme humidity, cold, and heat are no match for porcelain enamel. This type of finish does not deteriorate when in contact with chemicals found in most industries – it retains its original shape, color, and texture – ultimately providing years of extended use compared to other fixtures.
3.) Durable
The hardness of glass combined with the strength of steel gives porcelain enamel products the durability needed for industrial and commercial lighting applications. Our porcelain enamel resists scratching and retains its original luster even after years of hard use.
4.) Style
Styles of the 1930's through 60's were often traditional and most porcelain enamel could be found in rural or industrial locations. Styles change over time, but thankfully always seem to circle back around. Designers today showcase cottages with mix matched textiles and soft colors which can be ideal for family life. More modern styles for city dwellers aim to achieve simplicity with minimalist designs and industrial touches. Porcelain enamel shades have clean, crisp shade designs that blend well with any of today's design styles. Numerous shade sizes and mounting options allow for them to adapt to multiple room's or exterior locations.