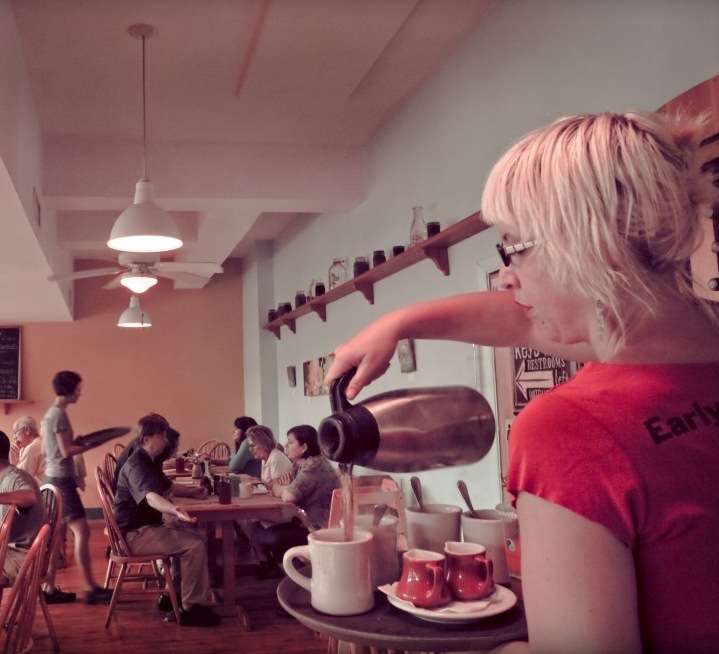 Porcelain Deep Bowl Shades Give Classic Touch of Americana
The farm-to-table movement is gaining momentum across the country not only because fresh simply tastes better, but because restaurants typically love supporting their local economy. A strong local economy means people eat out more often! Buying local helps your neighbors thrive and is also easier on the environment as less travel means less energy consumption and less pollution. Asheville, North Carolina, a leader in the Buy Local movement, has a vibrant restaurant scene that includes many establishments with a focus on local ingredients. The Early Girl Eatery is one such restaurant that has stayed true to its motto "made from scratch" by creating a wide variety of dishes that reflect true southern cooking with fresh meats, cheeses, and produce.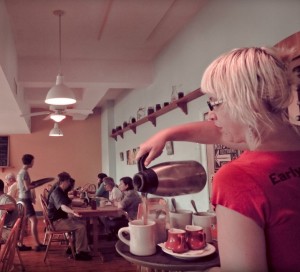 If you can manage to look beyond the catfish sandwich, black eyed pea hummus, and glass of sweet tea on the table, check out the hefty, deep bowl porcelain barn lights that give the Early Girl a touch of classic Americana. These warehouse shades have been part of our barn lighting culture since they were first manufactured in this country in the early 1930s. Porcelain was originally used outdoors because of its strength and durability, but our Ivanhoe® line of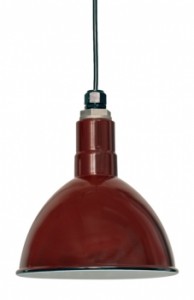 porcelain lights allows their use indoors with a cord mount. These lights are very similar to our Ivanhoe® Wilcox 10″ Porcelain Deep Bowl Pendant, a perfect mid-sized shade for both restaurant tables and kitchen tables.
The Wilcox comes in a variety of beautiful shade colors. You can also customize the cord by choosing from five cotton twist cord colors including red, brown, or putty as well as basic black. Our porcelain barn lights are manufactured right here in America from raw steel to give you the best quality light on the market. Porcelain retains its shape, texture, and color for a lifetime of use no matter the weather or environment.