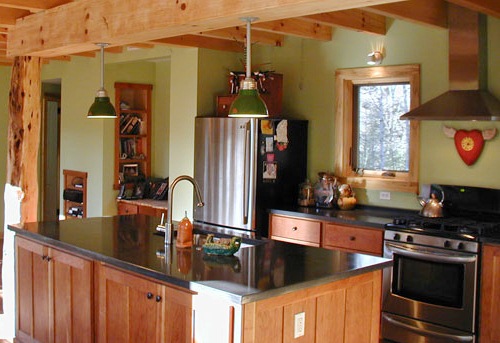 Porcelain Deep Bowl Pendants for Rustic Mountain Cabin
Just a couple of days ago, we featured a cabin in our Industrial Farmhouse blog that was built using the latest advances in green building. Many architects, builders, and developers in western North Carolina participate in the North Carolina Healthy Built Homes Program which certifies homes that reduce energy and water usage, promote renewable energy use, help protect the land and natural resources, and reduce pollution and waste during the manufacturing and construction phases. This home, located in Black Mountain, was built by Earthtone Builders and achieved a "Gold" certification. It features passive solar, radiant floor heat, solar hot water, non-toxic finishes, locally sourced wood, bamboo floors, and Energy Star appliances.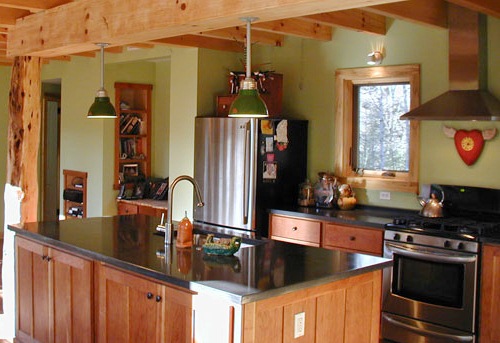 Today we take a peek in the kitchen where all of this modern technology is balanced by some beautiful vintage lights overhanging the kitchen island. These fixtures are very similar to our Ivanhoe® Wilcox 10″ Porcelain Pendant, part of our collection of Porcelain Barn Lights found on our Vintage Barn Lighting site. The classic dark green of these shades is the perfect complement to the lighter creamy green on the walls, the black granite countertops, and all of the warm exposed wood.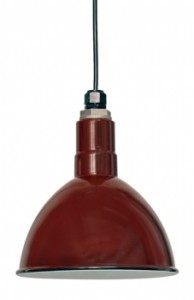 Like all of our porcelain barn lights, the Ivanhoe® Wilcox is hand spun by American craftsmen exclusively for Barn Light Electric. This deep bowl shade comes in a variety of finish colors and the porcelain canopy can be black, white, or matched to your shade color. This pendant comes standard with an eight foot black cord or you can customize the look by choosing a colored cotton twist cord which comes in a variety of lengths. The glass enamel coating, which makes porcelain such a desirable finish, is baked on to create a durable, long lasting finish that resists fading and scratching and retains its original lustre year after year. A mild soap-and-water wash is all that's needed to keep your vintage fixture looking like new!
Top photo courtesy of Earth Tone Builders