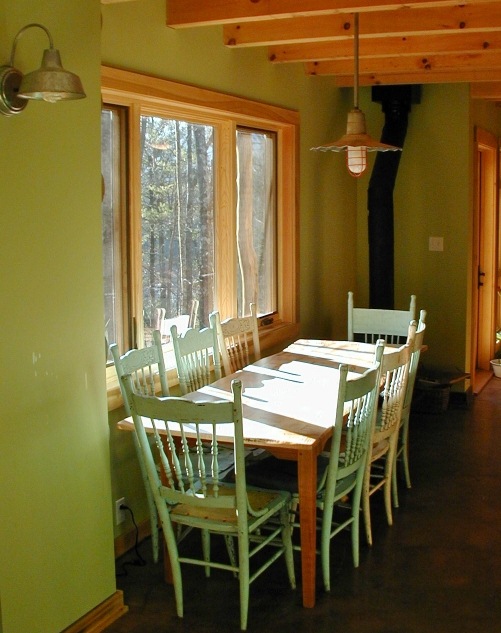 Galvanized Sconce, Pendant Add Industrial Flavor to Cozy Cabin
In the heart of the western North Carolina Appalachian mountains you would expect to find a log cabin or two as that vernacular was born and raised in these parts. But much has changed since the day when Granny spent the afternoon shelling peas on the front porch rocker. Green building has taken this area by storm and a variety of architects, builders, and developers all participate in the North Carolina Healthy Built Homes Program which certifies homes that reduce energy and water usage, promote renewable energy use, help protect the land and natural resources, and reduce pollution and waste during the manufacturing and construction phases.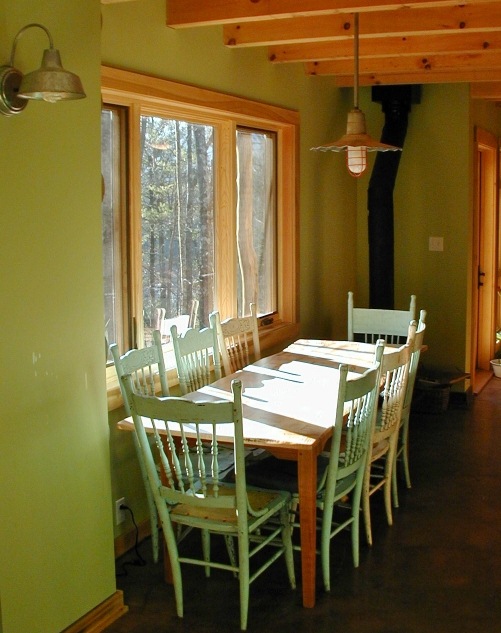 This little farmhouse in Black Mountain, built by Earthtone Builders, achieved a "Gold" certification and features passive solar, radiant floor heat, solar hot water, non-toxic finishes, locally sourced wood, bamboo floors, and Energy Star appliances. Though small in footprint — just under 1,800 square feet — this cabin is big on savings and is a cozy retreat with plenty of warm and welcoming touches throughout.
The eating area, just off of the kitchen, features a long farm table with mismatched chairs and an eye-catching pendant overhead. This fixture is much like our Radial Wave Pendant, part of our collection of Barn Pendants. This pendant comes in seven different shade sizes and features a wavy, fluted edge design. More than 50 different finish colors are available including the galvanized look of this fixture. This light also has a cast guard and glass which gives it a nice vintage touch, and the red guard offers a subtle hint of color.
On the wall is a Barn Sconce very much like our Arlington Sconce, an American made Barn Light Electric exclusive fixture. The Arlington comes in both 8″ and 10″ sizes and can be finished in traditional colors of black, white, or galvanized or try one of our other colors including dark green, barn red, rust, or bronze. Priced at under $100, The Arlington is an affordable addition to any farmhouse!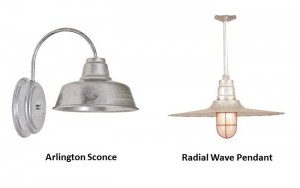 Top photo courtesy of Earthtone Builders