Featured Customer | Original Goosenecks Grace New Vermont Home
Vermont is well known for its quaint small towns, and Montgomery, located well north near the Canadian border, is a real gem. Montgomery's heritage is in the farming and timber industries and is home to a diverse community filled with small businesses, arts and craftspeople, and visitors that flock to the town in all seasons. Today's Featured Customer looked to the old farms and barns that dot the hillsides as inspiration for his new, small footprint, single family home.

"The design was based off a classic barn structure," says Charlie. "Simple lines, but bold." When he began his search for exterior lighting, he asked a friend, a timber framer in Massachusetts, for suggestions. '"When I described what I was looking for, he recommended Barn Light Electric without missing a beat." Charlie chose four of our 16″ Original™ Warehouse Gooseneck Lights in a Black finish for the exterior of his new home. He chose a G2 gooseneck arm to provide plenty of height and projection, and he finished the arm in the same Black finish as the shade. Charlie also chose to customize the fixtures with cast guards and frosted glass.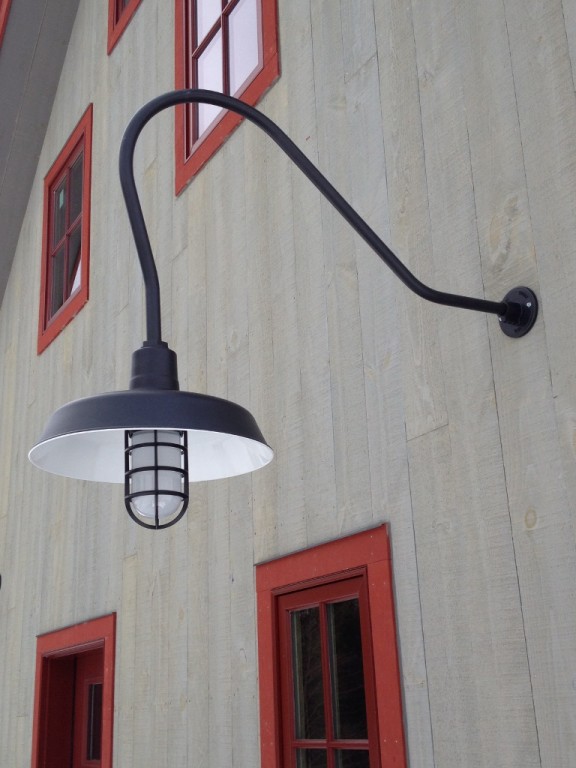 "The gooseneck is the classic barn light and the black finish has a versatile look that goes well with the light driftwood gray stain and barn red trim," Charlie explains. "The frosted glass and cage add a hint of rustic/industrial flavor that keeps with the original theme of the house." The Original™ Gooseneck remains one of our most popular lights thanks to its utilitarian style and wide range of customizing options. Seven shade sizes, more than a dozen powder coat finish colors, and other finish options to choose from translate to a highly versatile fixture. American made from commercial grade materials, the Original™ is a classic light for almost any home style.
"Like the rest of the structure, these lights are simple, but bold," Charlie says. "They are functional for the intended use and keep with the barn aesthetic. They fit the bill as exactly what we were looking for."
Photos courtesy of the homeowner