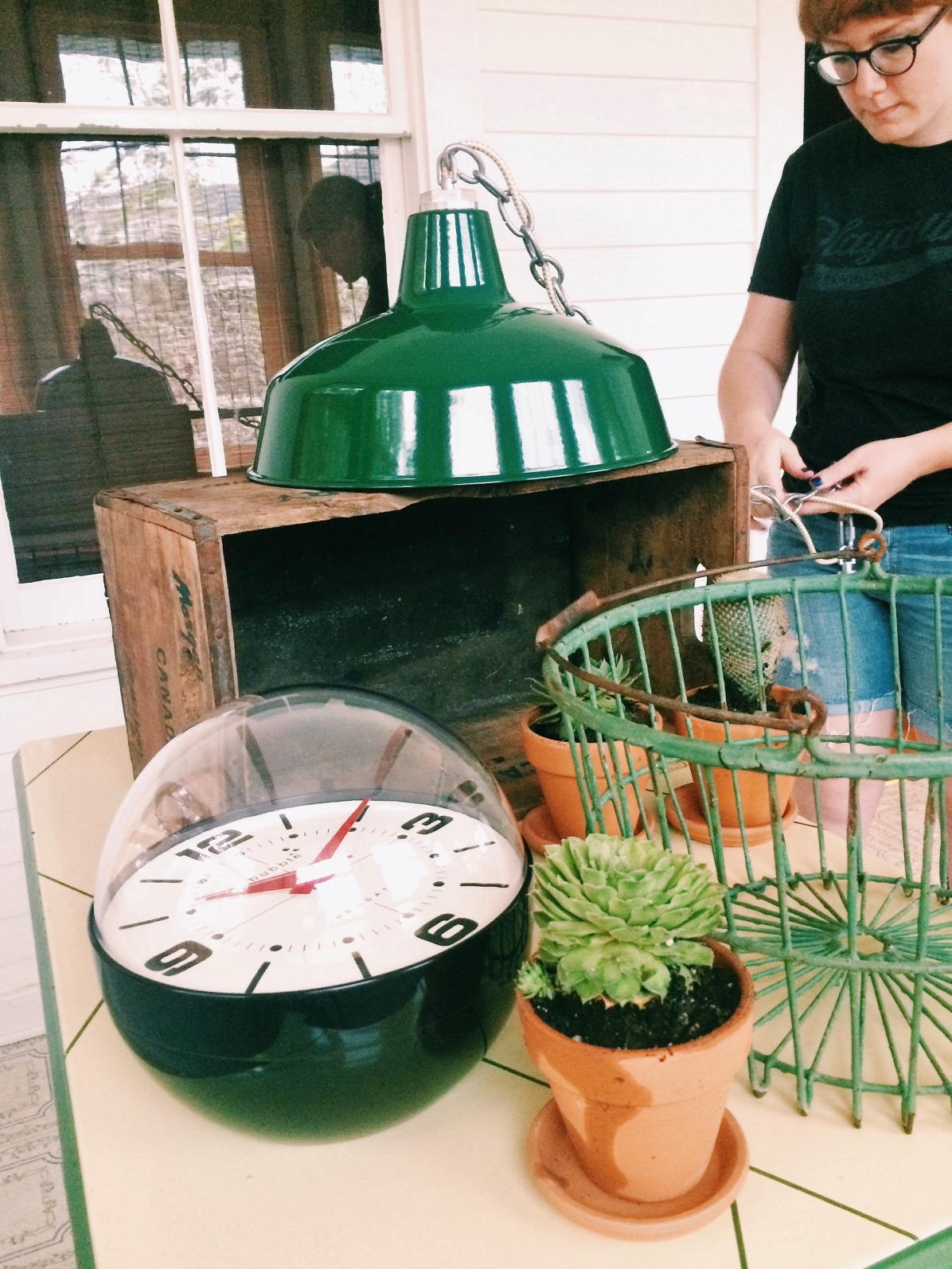 Photo Shoot on Tybee with Pendants and Lamps and … Gators? Oh My!
If you follow Barn Light Electric on Facebook, Instagram, and Twitter, you saw our team of photographers heading up the coast last week to Tybee Island, Georgia. The crew makes the journey once or twice a year to have a three-day photo shoot with some of our newest products. The owners and staff of Mermaid Cottages graciously allow us to use their vacation cottages as settings for the photos, and our crew always looks forward to their time on Tybee.
After settling into the Sea Star Cottage, the ladies started unpacking the boxes of lights and accessories that made the trip from Titusville. This cottage was built in the early 1930s and is full of original heart pine and features a large wrap-around porch.
The rugged Alliance 3-Light Chandelier looks right at home in the Sea Star and adds plenty of light to the dining room table with its three cast guard-and-glass lights with mini flared RLM shades. The vintage industrial detailing in this multi-light chandelier adds the perfect touch to this seaside cottage. The Alliance can be customized with finish, guard, and glass options to suit most any residential or commercial space.
Adding a spot of light to a small desk is the Lovell Task Lamp in Vintage Green. This American-made task lamp is hand crafted with a porcelain-coated conical shade that directs light exactly where you need it. Precision joints at the neck of the stem allow you to swivel the shade at a 90-degree angle and the inline switch makes turning the light off and on a breeze. Choose from 11 high-gloss porcelain enamel finish colors then dress up your new lamp with a colorful cotton cord for added visual interest.
The second stop was Eisenhower's Retreat, a cottage built in 1896 and listed on the list of National Historic Houses by the Department of the Interior. This lovely cottage was the perfect setting to show off our new Gladstone Pendant Light. The Gladstone features a steel shade hand spun by our own metal spinners affixed to a socket with a decorative turn key. This vintage reproduction light can be customized an array of options including your choice of porcelain enamel finish color, cording options, and other add-ons like a wire cage or a nostalgic Edison style light bulb.
And we've saved the best for last as we introduce the newest addition to our ever-growing collection of American made, vintage-inspired lighting. The Pollock Collection won't be officially launching until later this week, but we couldn't resist giving you a sneak peek at what our talented paint crew came up with in honor of renowned American artist Jackson Pollock.
This lovely shade is the Pollock No. 14 and features a new twist on the standard deep bowl pendant. This lovely ceiling pendant is striped with Jadite and White bands over a steel shade for a durable, never-fade finish. This American-made pendant is hand spun and hand painted therefore no two will be exactly alike — a true original!
And while our hard-working photographers put in some long days on the island, they did manage to relax now and then. They found great coffee at the Tybean, enjoyed apple pie ice cream at Jimmy's Seaside Sweets, and even made a new friend at The Crab Shack!