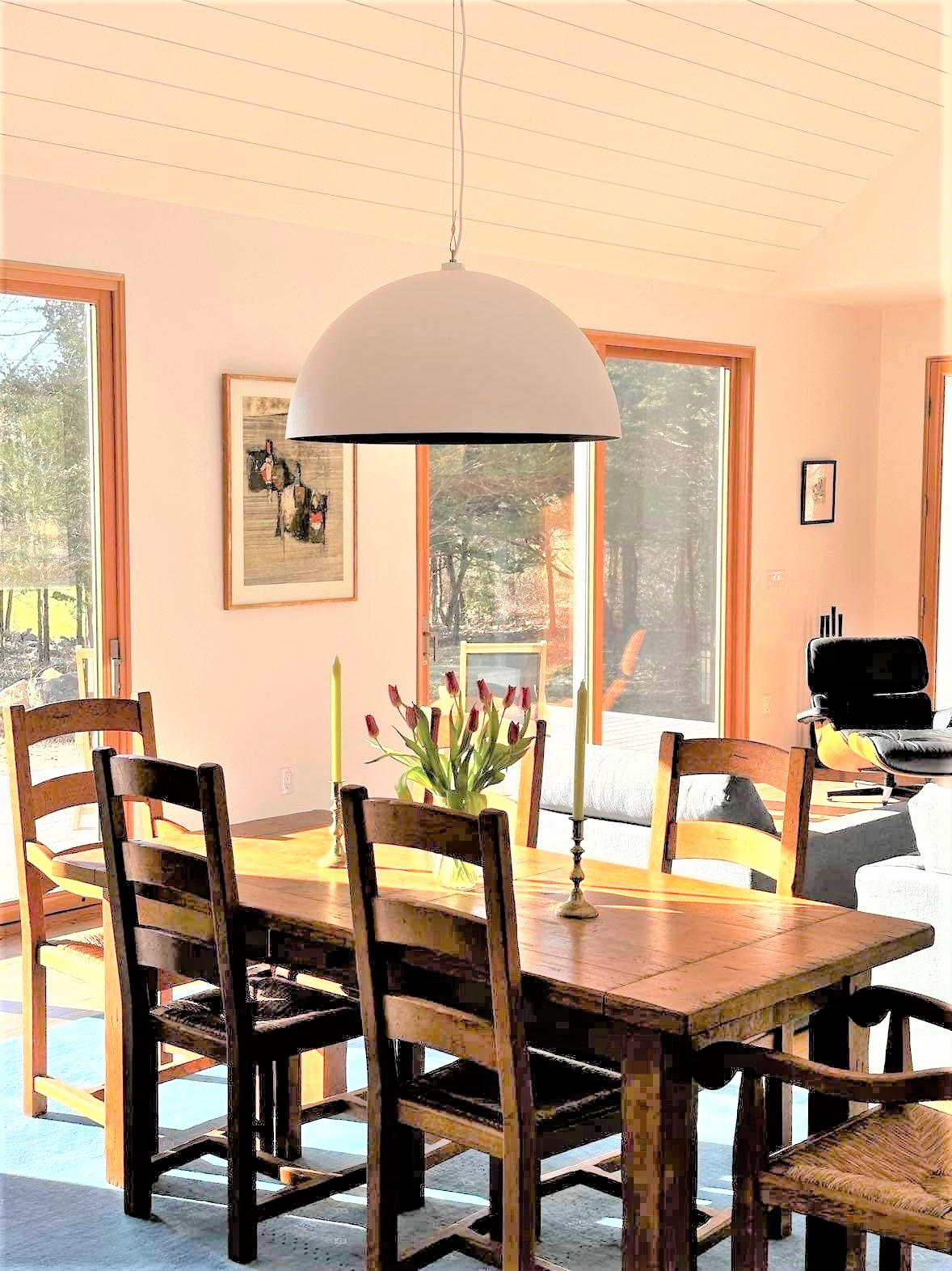 Oversized Pendant Creates Eye-Catching Focal Point in New Home
Many homeowners love the advantages that an open floor plan offers. The lack of dividing walls makes entertaining easier, allows more natural light throughout, creates the illusion of a bigger space, and offers better traffic flow.
When Michael Ertel, of Ertel Associates Architects, built his new home in South Dartmouth, Massachusetts, he designed a beautiful, open space with a vaulted ceiling and natural fir built-ins. Michael then looked for a light fixture to create a focal point in the space.
"We purchased from Barn Light Electric several years ago and loved all the options," Michael says. "We wanted a simple, geometric-shaped light fixture hanging in the space to define the dining area." Michael fell in love with the Loma Pendant Light for his new home. He customized this American-made pendant with an eye-catching 28″ shade.
"The simplicity of the shape was important," he explains. "The round shape of the Loma was the perfect solution as the shape evokes a floating form." Michael customized his new handcrafted pendant with a Matte White exterior finish and a Painted Aged Copper finish for the interior.
"I chose Matte White which relates more to the white walls and ceiling than as a piece of furniture where color is added," he notes. "The Matte White color also gives the fixture shape more of a sense of floating, ethereal feeling within the living area volume." Michael adds that he chose Painted Aged Copper for the interior because of the organic feeling of the color and for the warm glow that washes the table below.
Michael also requested a custom length for the cord-and-cable mounting to accommodate the high ceiling. This unique mounting allows for installation on sloped ceilings and imparts a relaxed style to the design.
"The light is perfect in all respects!" Michael says. "And of no less importance were the professional yet friendly interactions I had with everyone who helped me with the purchase!"
Photos courtesy of the homeowner