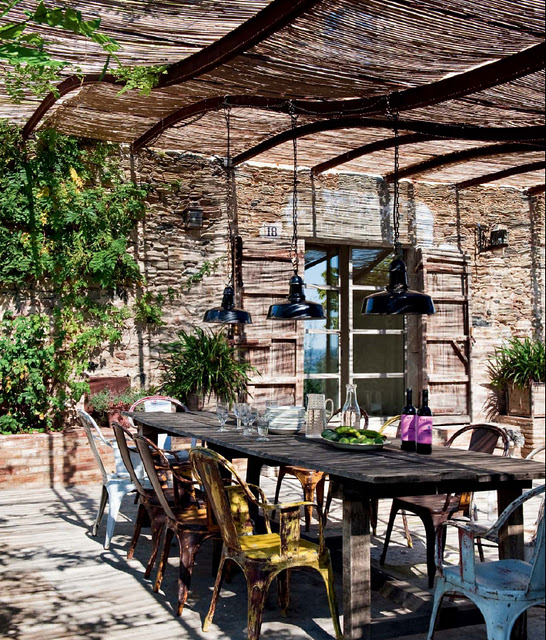 Outdoor Porcelain Pendants Blend Style and Durability
This outdoor eating spot is attractive on so many levels! From the textured roofing that undulates above and filters the light, to the mismatched chairs around the industrial table, to the striking industrial barn lights hanging from the structure's supports, this dining area invites one and all to gather. Located at a farmhouse in Catalunya, a community in northeastern Spain, this space has most certainly seen generations of family and friends sharing good food, good chianti, and good times.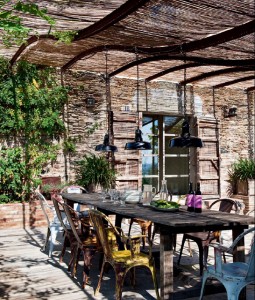 These RLM style pendant lights, much like our Ivanhoe® Bomber 17″ Warehouse Porcelain Pendant, are a perfect choice for this spot. Their solid construction consists of commercial strength steel with a porcelain enamel coating on the outside for incredible durability and long life. These barn lights will provide years of service without fading or chipping. Customers like the Bomber because of its generous 17″ span and 8″-deep, white bowl that provides a wide splash of light.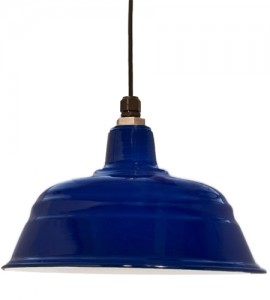 In our Ivanhoe® collection, the Bomber comes in a variety of finish colors from classic black or white, to bright yellow or lovely jadite. A black cord comes standard or you can choose a colored cotton twist cord to make even more of a style statement with your light. Prefer the look of a gooseneck? Check out the Bomber in our Goodrich® collection of gooseneck lights.
If you plan to use your light in an outdoor or commercial setting, the Benjamin® Bomber Porcelain Stem Mount Light is your best bet. The brushed aluminum stem mount on this fixture, which protects the internal wiring from wind, rain, and snow, ranges from six inches to four feet long so it is adaptable to almost any outdoor space. Choose from several finish colors knowing that the porcelain coating is manufactured to last. Your American made fixture will not deteriorate or corrode, and will retain its original color and texture for years to come.
Top Photo by Bron: Southside House