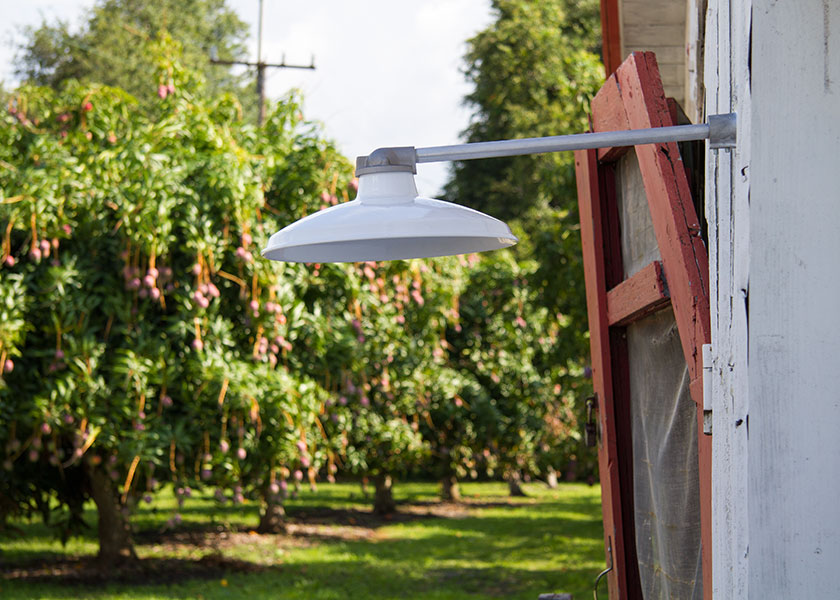 Outdoor Barn Lighting Delivers Industrial Look to Landscapes
If you're a reader of design blogs, you've probably seen lots of photos of industrial farmhouse settings with cozy kitchens full of reclaimed wood, exposed beams, and maybe even some brickwork in a loft setting. Lighting in these spaces can run from vintage industrial lights to more modern steel shades customized with colorful cords or interesting studio mounts.
To bring this hot industrial look to your exterior lighting, take a cue from early 20th century outdoor barn lighting.
These RLM-inspired warehouse shades that dotted the countrysides in the early 1930s and 40s were popular because of the generous amounts of light that is reflected downward onto the surface below, be it the front porch or the entrance to the barn.
This Marathon Gooseneck Light features a low profile and shallow shade suitable for garages, porches, or over the backyard barbeque grill. Available in three shade sizes and 15 durable powder coat finish colors, this rugged  outdoor gooseneck light sports a straight gooseneck arm to project the shade almost 20″ from the wall surface. You can further customize this American-made exterior light with a dusk-to-dawn photocell that will automatically turn your light on at dusk and off at dawn saving you both time and money.
One Barn Light Electric customer in Mexico chose the Galvanized look of the Original™ Warehouse Gooseneck Light to bring an industrial touch to his outdoor lighting. The sleek metal shade contrasts nicely against the dark façade and bright green door of his home on the Yucatan Peninsula.
For commercial lighting needs, outdoor barn lights now come in a wide range of sizes including these generous 24″ and 28″ Original™ Warehouse Gooseneck Lights. With the factory look of a classic RLM warehouse shade, these oversized industrial wall lights sport a heavy duty gooseneck arm and reflect a wide span of downward directed light onto patios, sidewalks, awnings, and commercial signage. All hand spun from commercial grade materials by our own metal artisans, these outdoor barn lights can be customized to complement any brand and are crafted to last for years!