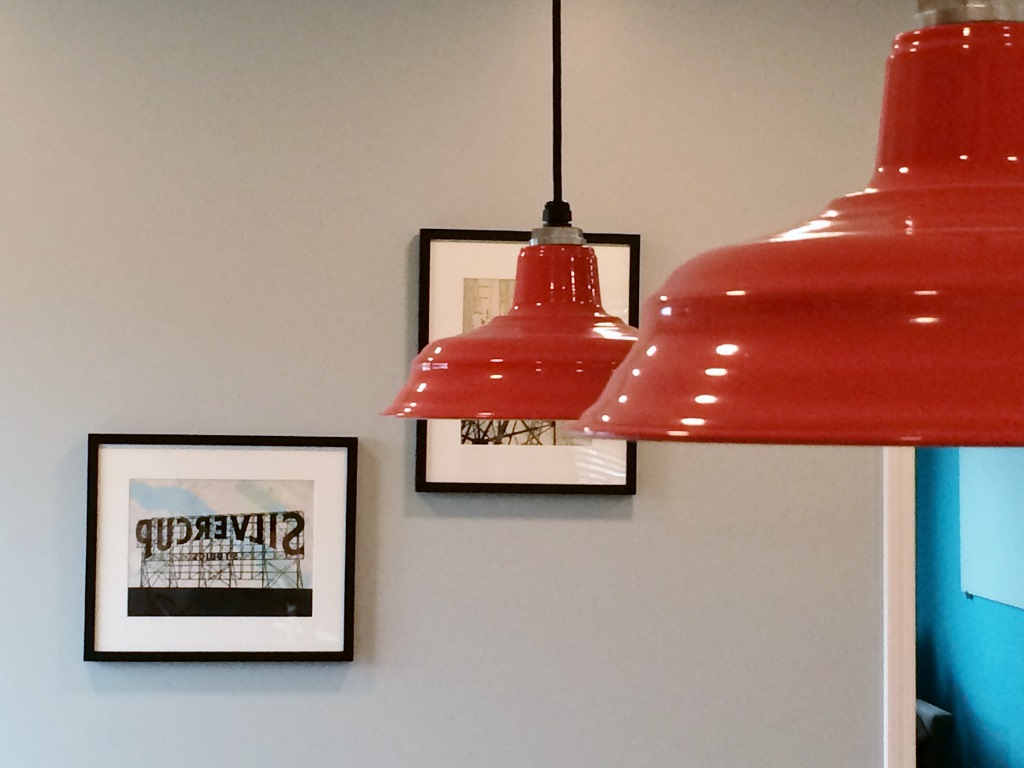 LED Barn Lighting Lends Energy-Efficient Character
We get a lot of calls and emails from customers who love the distinctive barn-style character of our lighting but who also want to maximize the energy efficiency of their fixtures. You want it all — and why not?
Andrew Gould, co-founder of Squirrels LLC in North Canton, Ohio, was one customer who searched for a long time before finding the perfect LED lighting for the renovated building that houses his software development company.
"We really wanted lighting that was energy efficient," Andrew says. "We went to great lengths to replace all of the fluorescent lights in this building with LED panels." According to Sid Keith, the social media and marketing coordinator for Squirrels, when the company purchased the building, the ambiance left a lot to be desired.
"It was dark, old, and no fun to be in which doesn't match our style," Sid says. "Now it's bright, airy, and a great place to work." In the lunch room, where the staff gathers twice a week for a company-provided catered lunch, two Bomber LED Pendant Lights highlight the space.
"This part of our building has an older vibe to it and we wanted things to look classic but still new," Sid explains. "We wanted something that would match the feel of the space and the Barn Light Electric lights match that theme."
The Bomber is one of our most popular RLM-inspired warehouse shades and features plenty of vintage detailing with its deep bowl style. Powered by the very latest in LED technology from Cree, the nation's leading innovator in LED lighting, this pair of pendants are customized with a 13″ shade finished in Orange and an 850 lumens flat lens.
"Orange is our classic company color," Sid notes. "This small splash of orange keeps the theme rolling and we were lucky enough to find chairs that matched the lights." The Bomber, along with all of the lights in our LED Collection, are hand spun from commercial grade materials by our own craftsmen and are made to order. Options include cord and canopy choices, lumens and lens options, and a wire cage to add industrial appeal.
"Not only are these lights functional for our needs, but they look great too," Sid says. "The lights are a subtle pop of orange that go great with the space. They're not overbearing and are exactly what we needed."
Photos courtesy of Squirrels LLC