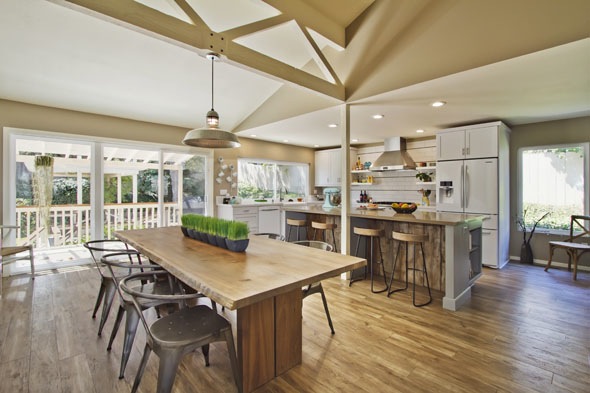 Outback Pendant Featured in San Diego Magazine
Think back to the 1970's and what comes to mind? Is it green shag carpet, wood paneling, or episodes of The Brady Bunch? More than likely all three things will give you a flash back, and (unfortunately) some of the original decor still remains in homes today. It's a good thing though that ranch style floor plans are so popular today, as renovating one could prove to be a smart move. The kitchen today was formerly outdated, although Alice may have still enjoyed it. The homeowners wished to create a "rustic-modern" space, full of textured and distressed woods and new appliances.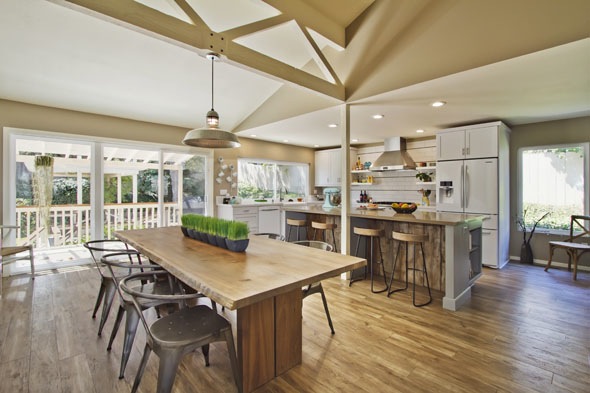 They started by opening up the previously cramped kitchen, a common characteristic in these retro homes. A warm, wooden dining table surrounded by industrial metal chairs makes for an informal seating arrangement, all highlighted by the Barn Light Outback Warehouse Pendant.
The Outback Pendant is definitely a favorite amongst barn lighting fans. It revolutionizes the older, historic RLM lights by incorporating an exposed cast guard and glass in the neck of the shade. By bringing in a vintage looking factory light to the formerly outdated kitchen, it reflects on the past and brings a new look to the future. The homeowners couldn't have said it better when describing their lighting choice:
"We wanted a fixture that looked like it had done its time."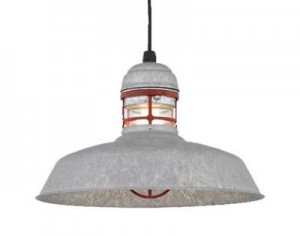 They even went a step further by utilizing a second Outback Pendant in their entryway – preparing guests for the cozy, yet modern home they're about to enter. The Outback Pendant is also available as a gooseneck barn light too. The beauty behind the Outback is that you can make it as funky or simple as you want, simply by changing the color of the cast guard and glass. The designers of the kitchen stuck with a classic galvanized lamp, amplifying the rustic modern style they were aiming for.
Top Photo Courtesy of San Diego Magazine