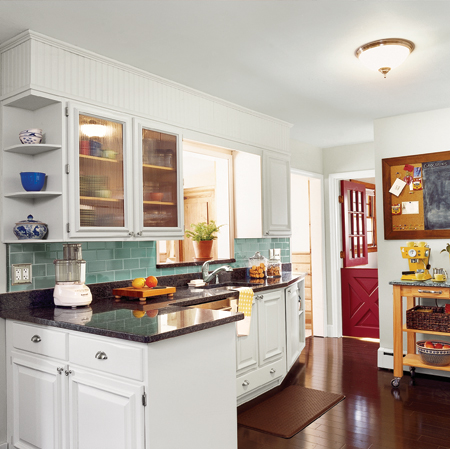 Modern Flush Mount Lighting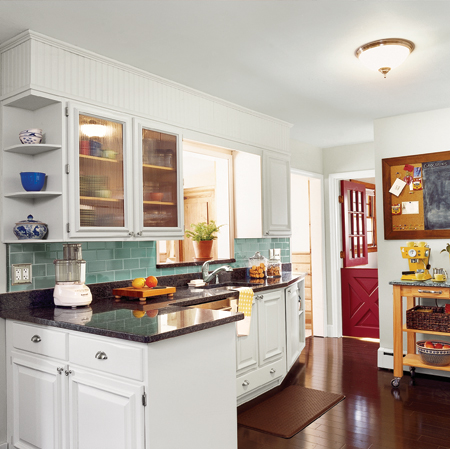 Kitchen Photo Courtesy of All About Home Decoration & Furniture
Flush Mount lighting is an easy and affordable way to make a room seem bright and cheerful. Often times today, track lighting or pendant lighting is chosen to be mounted in kitchens. Track lights allow for lighting to be directed in multiple locations but can leave you squinting while glancing upward. Pendants tend to cast light straight downward but can be useful for ambient lighting when connected to a dimmer switch. While both of these options are still welcomed at here Barn Light Electric, we'd also like to discuss more subtle options – our Flush Mount category of lighting. Here you can find ceiling lights for all eras of homes in any shape, size, or color – Victorian, Art Deco, or Modern – black, white, brown – square, round or oblong.

Aside from the gorgeous teal subway tiles and stark red Dutch door, we noticed their traditional styled lighting element mounted directly in the middle of the room. Although the kitchen has plenty of natural lighting, you can see that by having it mounted flush to the ceiling, the light is able to spread throughout the space. Proper lighting is especially important in the kitchen where one needs to see what they are doing while cooking.
For a similar fixture, be sure to check out our West Side Flush Mount Ceiling Pendant. Each is available in five finishes to match your room's decor: Polished Brass (shown in the photo above), Satin Steel, Patina, Rosewood, and Sierra Wash. Most of our Flush Mount lights use one to three Standard Incandescent light bulbs, but before purchasing these, consider trying a Compact Fluorescent (CFL) bulb. Most CFL bulbs yield a 75% energy savings and can last up to eight times longer than incandescent bulbs!