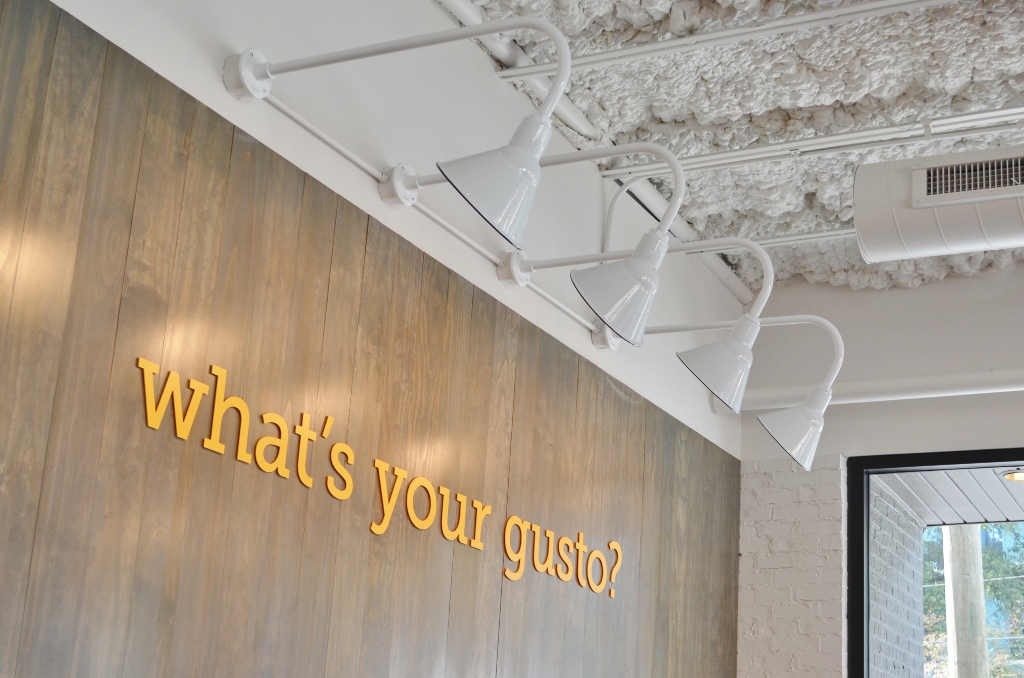 Industrial Lighting Brings City Vibe to Atlanta Eatery
Halloween may have brought out the ghosts and goblins, but it also brought out a crowd in Atlanta for the opening of Gusto! Wood Fire Grill. Located in the Brookwood neighborhood and owned by former NFL quarterback Nate Hybl, the new eatery offers a fast-casual dining experience in a bright, industrial setting.
Teaming up to create the perfect mood for the new space were Lindsay Denman Brand Creative, a boutique Atlanta-based branding agency, and PSG Construction.
"We wanted to create a light, casual, industrial look that would provide an in-town, city vibe," says Lindsay, "We wanted to telegraph an affordable, everyday restaurant. It was important to stay informal without sacrificing style."
The restaurant is located in a row of mid-20th century commercial buildings. The space underwent a total face lift with the demolition of almost all of the existing structure, the removal of the dropped ceiling, and the installation of a new storefront.
"One of the best decisions we made in terms of visibility was to choose untinted glass and a bright white interior," Lindsay says. "If people can't see in, they're less likely to go in."
Lindsay chose Barn Light Electric's Fire Chief Sign Light in a White finish to loosely match the existing exterior lighting and to wash the walls containing logos or brand graphics.
"They are so great looking! They are the signature lights in the space," he notes. "We like that the signature lighting really comes from a utilitarian aesthetic." The Fire Chief Sign Lights were customized with 10″ shades and a G7 gooseneck arm that was trimmed to 26.5″ to better suit the space.
"You can't beat that porcelain enamel finish. It's so smart looking," Lindsay says. "We did not want these to look aged or rustic or eroded. We weren't going for a garage look. This is modern and new!"
With a high-gloss porcelain enamel finish that will never fade, the Fire Chief Sign Lights are a wise choice for commercial lighting needs. Easy to customize with four shade sizes and 11 finish colors to choose from plus other options like cast guard and glass, the Fire Chief brings five-alarm style that will last for years.
"The lights have a lot of look," Lindsay says. "They really draw your eye where it needs to go."
 Photos courtesy of Lindsay Denman Brand Creative and PSG Construction