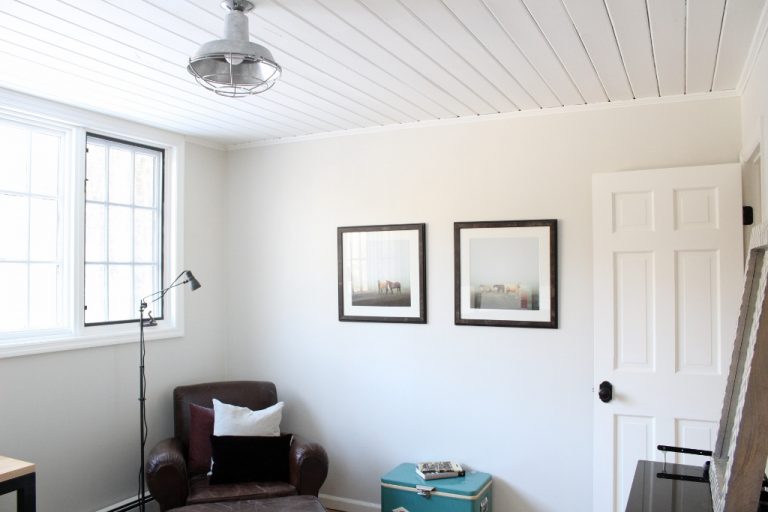 Flush Mount Lighting To Fit Your Space and Your Style
If you're on the hunt for lighting, you've probably noticed the endless array of choices when it comes to pendant lighting. But what if you have a space that is not suited for a dangling cord-hung pendant? Even one with the lovely red-and-white twist cord you've had your eye on?
Flush mount lighting — those fixtures that hug tightly to walls and ceilings — may not be as popular as cord or stem mount lighting, but these versatile fixtures can be the perfect solution for some spaces. With our ever-expanding collection of flush mount lights, you don't have to settle for a basic fluorescent fixture from the big-box store. Barn Light Electric offers a variety of flush mount lighting that is suitable for low ceilings or in areas where dangling fixtures could be a hazard such as in a workshop or garage — or this laundry room.
Flush mount lights come in a variety of styles including our popular barn-style fixtures. The Original™ Warehouse Flush Mount Pendant Light features our most popular RLM warehouse shade. You can customize this ceiling light with shade size and finish color then consider other options like a wire guard or cast guard and glass.
Want something a bit more rustic? The Flush Mount Guard Sconce is a compact, yet stylish ceiling light that offers plenty of light through the cast guard and glass and can take on a variety of looks depending on your choice of finish color.
Choose a standard cast guard or go for the thick cast guard for an even more industrial look. Six glass options are available including Honey and Smoke Crackle glass. This handsome ceiling light is also available as the Flush Mount LED Guard Sconce which offers all of the rustic styling you love in an energy-saving, environmentally friendly fixture.
The nautical style of the Amidships Bulkhead Wall Mount Light is the perfect addition to beach cottages, oyster bars, or a poolside cabana with its frosted ribbed lens and protective guard. The complementary Anchorage Bulkhead Wall Mount Light offers even more nautical flair with its round, port hole shape.
For a throwback look that takes you to the head of the class, consider the Primary Schoolhouse Flush Mount Light. American made with hand-blown glass and easy to customize with glass size and an optional painted band of opaque color, this schoolhouse light will provide a soft glow to laundry rooms, the guest bath, or casual dining spaces!