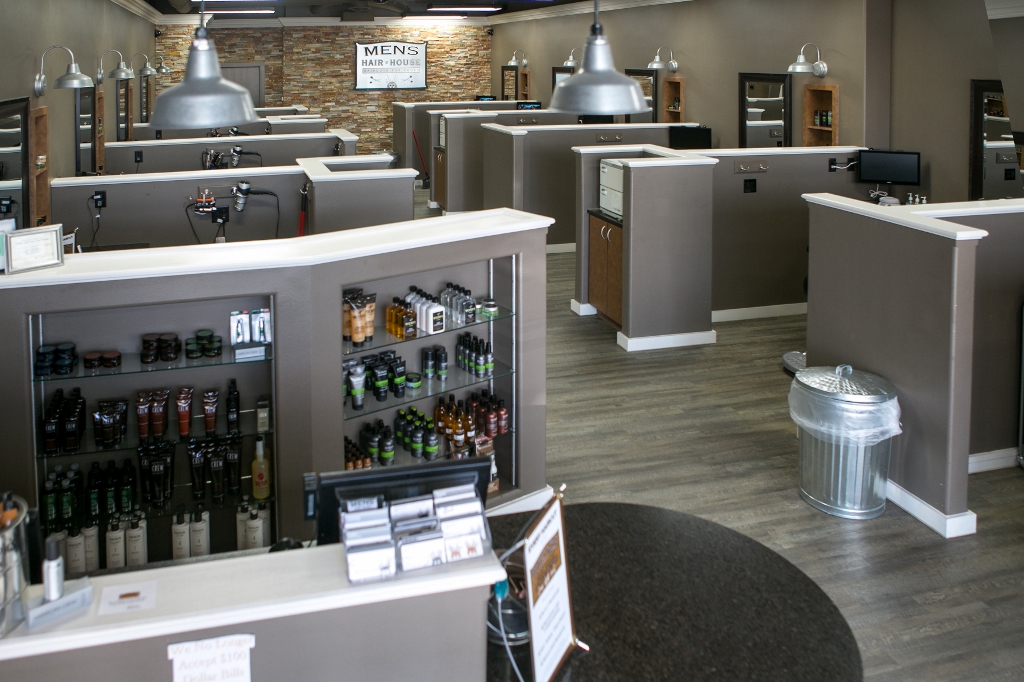 Wall Sconces, Warehouse Lighting a Cut Above for Men's Hair Salon
Creating the right atmosphere in a place of business can mean the difference between wild success, mediocrity, or dismal failure. While two businesses may offer the exact same products or services, the space that draws people in and makes them feel comfortable with amenities and, dare we say, great lighting, will gain more attention in the marketplace.
Troy Rinehardt, co-owner of Men's Hair House, understands this completely and has created a highly successful chain of men's hair salons that cater not only to adults but to younger boys and children as well.
"We wanted it to feel manly and classy at the same time," Troy says, "yet welcoming to moms bringing in their boys." With four salons located in North Dakota and plans for more to open in 2015, Troy has hit upon a winning combination of attentive staff, comfy leather chairs, TV sets at every station, and a commercial lighting plan that gives a welcoming vibe.
In their newest location in the Osgood neighborhood of Fargo, Troy chose to highlight each work station with the Austin Wall Sconce. These classic barn wall sconces are customized with a 10″ shade and a Galvanized finish. The compact shade of the Austin directs the light downward onto the products displayed at each station without a lot of glare.
To complement the exposed duct work in the ceiling and industrial look of the space, Troy picked the Avalon Pendant Light for the front desk area. With its 8″ shade and matching Galvanized finish, this warehouse lighting also picks up the metallic touches of the garbage cans and galvanized wrap around the front desk.
"We liked the galvanized finish because it's manly and classy, yet easy to clean and doesn't go out of style," Troy explains. "Clients comment on the lights daily as the wall sconces emphasize our product in each station. Troy spent hours on the Barn Light Electric website browsing all of the customizing options before making his final selections.
"I would say the lights were the final touch we were missing," he says. "Our first location doesn't have the barn lights and we plan on adding them when we remodel that location!"
Photos courtesy of Men's Hair House Haircuts for Dudes