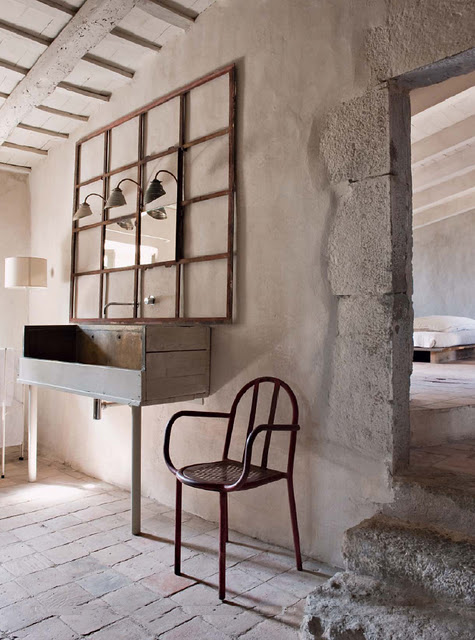 Mini Emblem Shades a Delicate Touch in Rustic Bathroom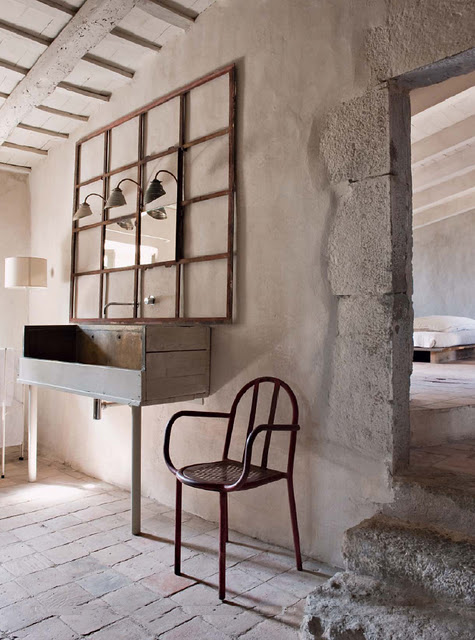 When you think of using angle shade gooseneck lights, an exterior application often comes to mind. These are wonderful fixtures for lighting up the outside of homes, commercial building fronts, over awnings, or for signage. But this clever homeowner brings a mini version of the gooseneck shade indoors where it adds an unusually delicate touch to this rustic bathroom.

Using an old window frame minus the glass, two mirrors are inserted into the center squares for use over the sink. The miniature lights, very similar to Barn Light Electric's Mini Emblem Shade, are angled to throw a bit of light where its needed and add the perfect vintage touch to this bucolic space.
Our Mini Warehouse Shades are smaller versions of our most popular RLM Barn Lights. With most shades measuring just six inches wide, this series of small RLM lights are perfect to showcase artwork, accent small dining areas, or provide an alternative to traditional bathroom or bedside lighting.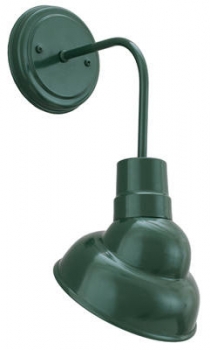 Our Mini Emblem Shade features a stacked shade design just like its larger cousin the Emblem Shade, reflecting the Art Deco designs of the early to mid 20th century. The smooth, curved shape, compact size, and low profile are very indicative of this era that emphasized a rounded form and function. The bulb for the Mini Emblem Shade sits high in the upper dome where light is collected and reflected from the white interior.
A variety of options are available for the mini gooseneck arm with different size projections from the wall as well as decorative touches on the arm itself. Built to last by American craftsmen, these fixtures will provide you with years of style and service.
Top photo courtesy of Bron: Southside House