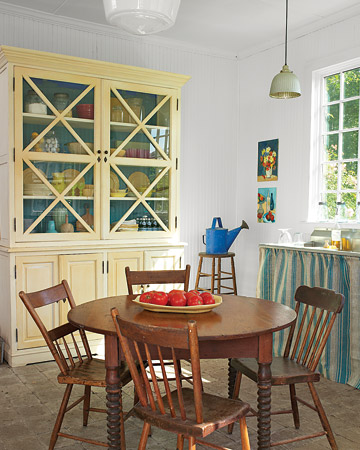 Mini Deep Bowl Pendant That Complements a Coastal Kitchen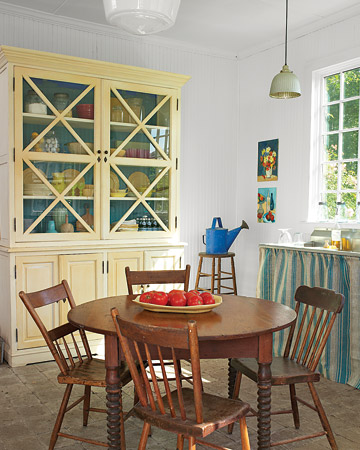 No matter where you live in the world, chances are that you can find a coastal influence somewhere. Whether it's at your local art gallery, a tiki inspired restaurant, or maybe by the seashore itself, beach styling is omnipresent even in the most landlocked areas. When you think about it, who doesn't love imagining the relaxing sounds of waves crashing?

Can you guess what our post is about today? That's right – if you want to bring new life to your home, do so with a sea-inspired scheme. This doesn't mean you have to cover your spaces in palm trees and star fish. True beach style goes beyond what you may find at your local craft store. Another bonus? You could probably repurpose a couple existing items in your home to coordinate with this refreshing scheme. It's not about matching your wood tones and wall colors, you're free to do as you wish! Take the breakfast nook shown above for example. It was featured in Martha Stewart's Favorite Kitchens Gallery – and for good reason. The room is warm and welcoming without being over styled, anyone would want to sit down for breakfast here.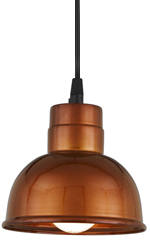 Choosing lighting for your coastal kitchen is probably one of the most difficult parts. After all, nearly any of our light fixtures would look great for a beach bungalow. The designer of this room thought out of the box and chose a miniature pendant over the counter area. You can get this look in your home with our Barn Light Mini Deep Bowl Pendant. Shown on the left in our Café finish, this American made light is also available in a variety of finish options, over 40 to be exact. Retro finishes like Cruiser Green and Cranberry make for a fun splash of color, or a classic finish like Galvanized will coordinate with nearly anything.
Top Photo Courtesy of Martha Stewart