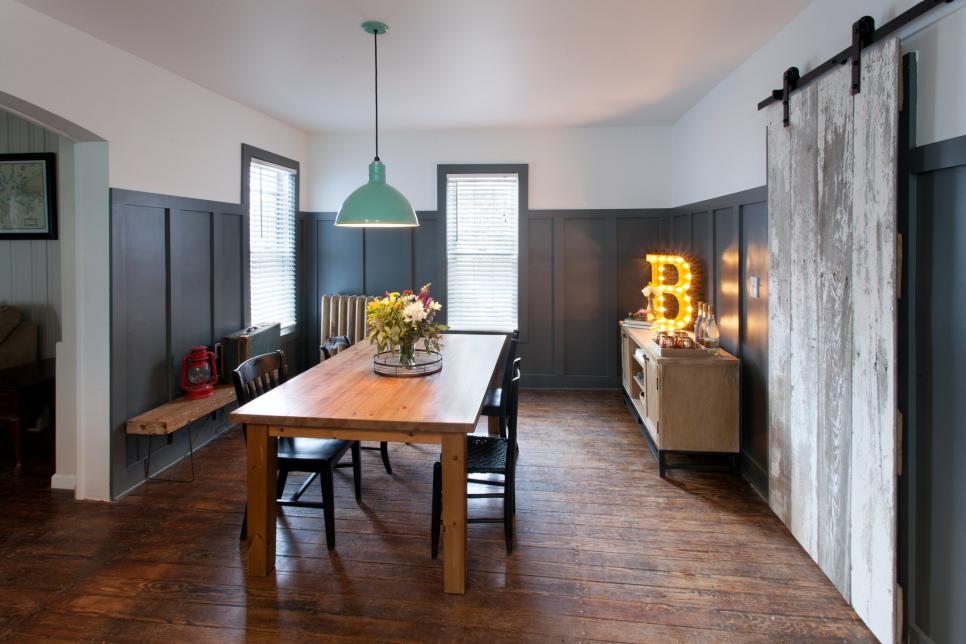 Guest Blogger | Five Lessons We Learned From Design TV
Over the years, Barn Light Electric has had the pleasure of working with the designers behind some of TV's best home improvement shows. These experts have seen it all – from the most outdated kitchens in the country to the smallest homes on the globe. The challenges they regularly face have made them true design ninjas, constantly thinking outside the box to serve up creative yet functional designs for their hungry audiences. Below, some of our favorite lessons learned while watching these pros in action
Mega personality often comes in small packages. This cozy, yet stylish bedroom was featured on DIY Network's Tiny House Nation, where the designer faced, as you can guess, small space issues. To save room on a petite bedside table, the clever designer opted for pendant lighting instead, using a bare bulb with a brass socket for instant style.
On the other side, where there wasn't enough room for even a table (let alone a table lamp), a brightly colored sconce steals the show whether it's on or off.
Pendants are the ultimate kitchen island lighting. Sleek and utilitarian, these functional powerhouses provide exactly what every cook needs – good overhead lighting – and what every homeowner wants – a high-style kitchen.
The barn-style pendants featured in this space from America's Most Desperate Kitchens on HGTV complement the kitchen's rustic vibe while adding a shot of rich color into the space's neutral palette.
A classic palette feels modern with colorful accents. This small home – also from Tiny House Nation –  took a timeless color combo of black, white, and copper and gave it an unexpected twist by incorporating a few pops of tropical color. The stair risers, chairs, planters, and sconce all add an exuberance to the home, without punching you in the face with color overload. Bonus: all of these features can easily be repainted or replaced as tastes change.
Jadite is the key to contemporary farmhouse style. Both of these homes use natural, rustic materials and classic barn-style design elements to convey a farmhouse feel. But it's the addition of a small porcelain light above the sink (featured in DIY Network's Lake Life)…
…and a pendant over the dining table (as seen on HGTV's America's Most Desperate Kitchens) – both in beautiful jadite – that gives these spaces the modern edge they craved.
There's nothing more welcoming than a touch of red. The "before" decor at Friendly Bake Shop, spotlighted on TLC's The Bakery Boss, was anything but friendly. But with some seriously smart design choices, including strategic pops of red, this bakery finally began to embody its neighborly moniker.
The red gooseneck lighting on the bakery's exterior functions much like a welcoming red front door, while the ceiling lights above the inside counter greet customers with a bright cherry smile.
Guest blogger Melissa Andersen is a writer, editor, blogger, and social media manager/consultant for clients such as And North, Kaufmann Mercantile, and The Cousins from HGTV