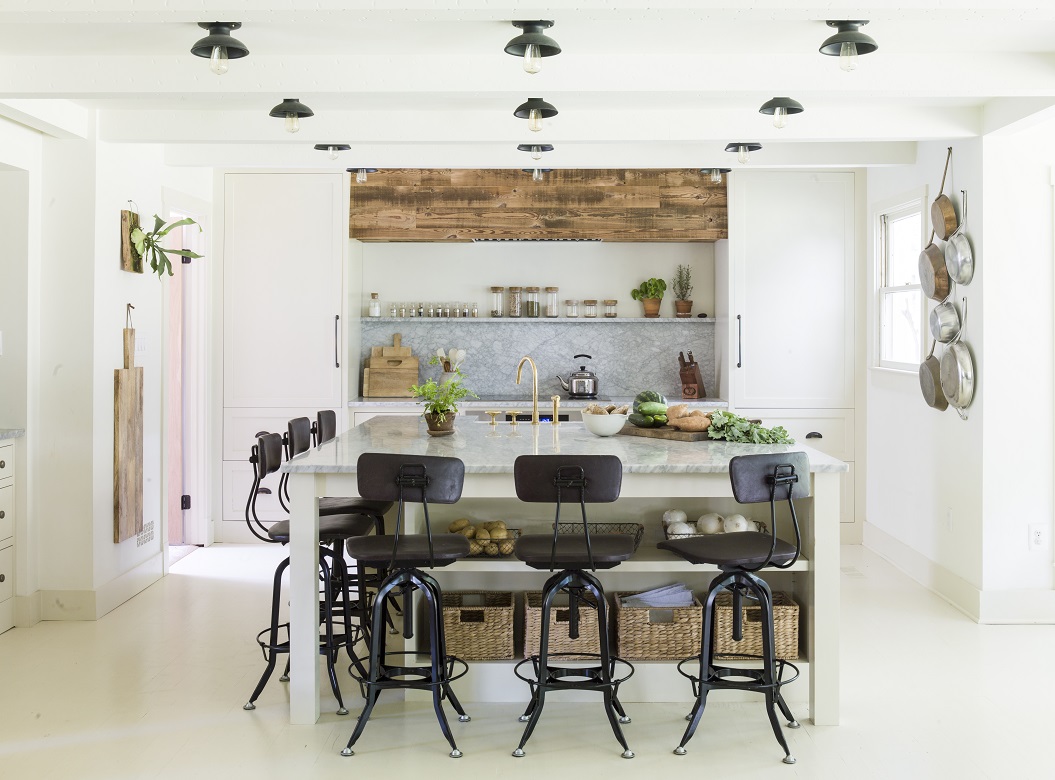 Kitchen Lighting That Kicks Recessed Cans to the Curb
In her search for new kitchen lighting for her northern Virginia home, designer Lauren Liess wanted an alternative to traditional can lighting.
"Because our house is a Cape Cod, I looked to old colonial kitchens for inspiration," Lauren says. "I wanted the kitchen to feel light and airy, very accessible, and easy to work in."
Lauren and her husband David own an interior design firm and textiles company and have been renovating their home for almost a year. Lauren created a clean and modern layout with open cabinetry balanced with rustic touches. She found the perfect alternative to can lighting in the Kao Flush Mount Pendant.
"Its size and scale was just what I needed for my kitchen lighting," she notes. Lauren customized these compact ceiling lights with a Textured Black finish and Edison style light bulbs. Thirty of the fixtures line the ceiling between her kitchen and adjoining living space.
"I love the shot of black and contrast they provide in my almost all-white kitchen," Lauren explains. "The functionality was important as we looked for lighting, but I was looking for a design that could feel both traditional and modern."
The design of this flush mount pendant dates back to fixtures originally manufactured by Pass & Seymour. While these lights added unique style to kitchens throughout the 1950s, they look right at home in this modern setting. Made from solid porcelain ceramic, this kitchen pendant is available in 27 finish colors to take a space from traditional to trendy.
"It feels like a party every night! The Edison bulbs give our kitchen this amazing, cozy, warm glow every evening," Lauren says. "We put them on dimmers. When you turn on the lights, it instantly feels special and fun. I had no idea how much I'd love going with the Kao fixtures over recessed!"
Photos courtesy Lauren Liess