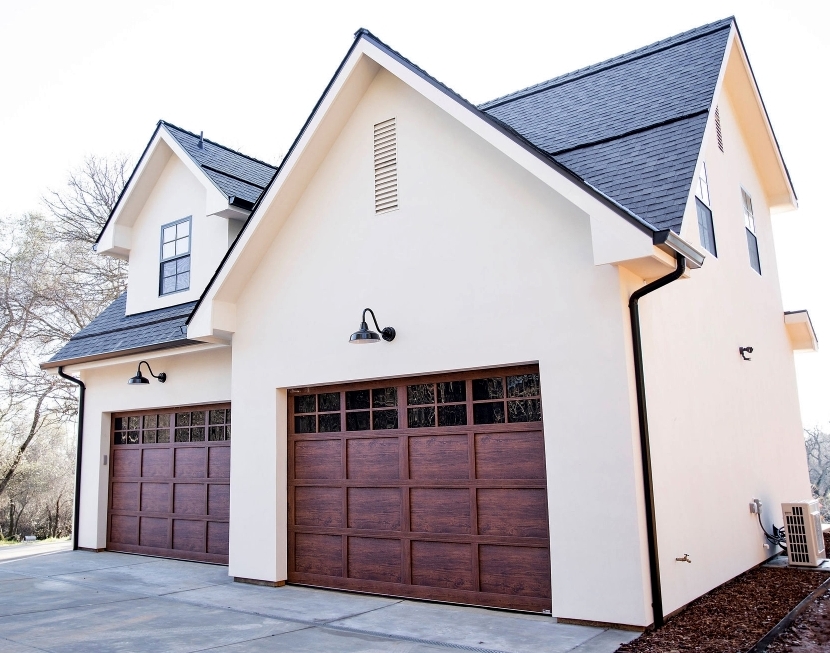 LED Lighting Adds Finishing Touch to New Farmhouse Build
When homeowners go shopping for lighting, what's on the list of must-haves? American-made fixtures? Plenty of finish colors? Customizing options? LED? For Kim and Denny, it was all of the above.
"Yeah, you could find a light on Amazon for a fraction of the cost, but will it look and feel like it's made to last?" Kim asks. "When it breaks after a year, who do you call, with your fingers crossed, hoping the anonymous online company stands behind their product?" The couple found Barn Light Electric online and discovered a company that not only handcrafts quality lighting but is staffed by plenty of artisans and real people answering the phone.
Kim and Denny are focusing their creative energies on the building of their modern farmhouse in Loomis, California. The first step was a garage/workshop with a loft above where they now live while they finish the house. Finding stylish LED lighting was high on their list.
"LED is mandatory for new construction in California, and you guys have awesome LED options," Kim says. Kim loves simplicity in design and wanted a crisp, clean, neutral palette. She chose white stucco for the exterior to allow the details to shine.
For lighting, the couple gravitated to barn-style LED lighting and, in particular, handspun lights from our Porcelain Enamel LED Collection. They chose the Avalon LED Gooseneck Light for the garage and customized them with 14″ shades, Black finish, and G15 gooseneck arms.
"They are traditional farmhouse in the classiest way," Kim notes. The Avalon is a sleek, mid-sized shade with a style reaching back to the early 20th century but is paired with the very latest in LED technology. Over the doorways, Kim chose a complementary Avalon LED Wall Sconce.
"I wanted something that would match the lights over the garage door but not get repetitive," she explains. "We chose the same Black finish but got 12″ shades on these because we didn't want them too big based on the size of the door."
At the base of the exterior stairs, they chose a Flush Mount LED Guard Sconce to provide illumination for safety. This rugged exterior light is customized with a Black finish, standard cast guard, frosted glass, and a warm white 2700K color temperature.
"I wanted the lights to all work together but not get repetitive," Kim says. "Installing them was like adding a beautiful bow to a perfectly wrapped package. It made everything come together so nicely!"
Photos courtesy of The Wilsons Build and Permanent Glimpse Photography