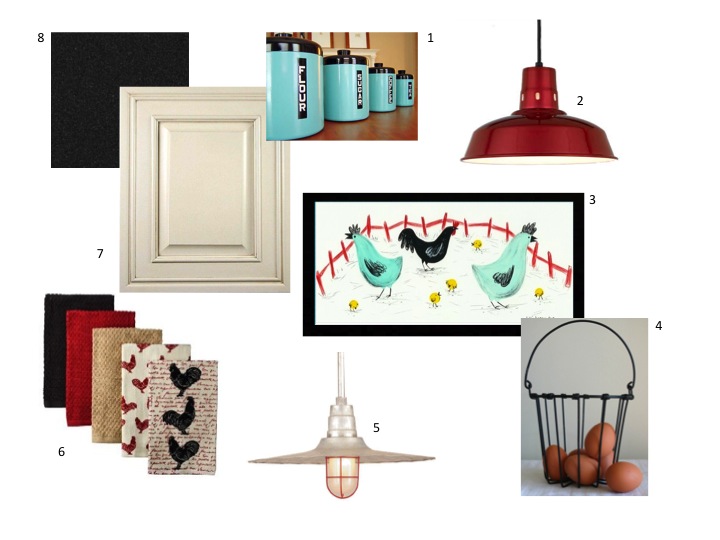 Kitchen Style Guide for a Retro Country Feel
Whether you're looking to update parts of your kitchen or you're going for a total demo, try putting together a Style Guide of photos before making purchases. Today you'll see our version of a simple 1950's Retro Country Kitchen. You might already have similar cupboards and counters so with a few accessories, this look can be a breeze for you! Have a theme in mind? We went with chickens as you can tell – first inspired by an amazing print we found on Etsy. Turquoise was a very popular color back in the day and to bring in more of that color, we found a DIY project on Decorology that takes ordinary galvanized canisters, and with a little paint, they were able to create these fabulous pieces.

Naturally we were able to tie in a couple of our barn lights for uses above counters or kitchen tables. We chose two of our favorites, the 12″ Barn Light Vented Warehouse Pendant in 97-Red and a 12″ Galvanized Radial Wave Pendant with the Wire Guard and Ribbed Glass option. Both are able to bring in a splash of color with their unique retro country feel. We finished off our Style Guide with some small accents with another wire egg basket from Etsy, and a set of themed dish towels.
Overall our makeover was pretty simple. We tried to not over do it – simple accents with a little country flair can go a long way!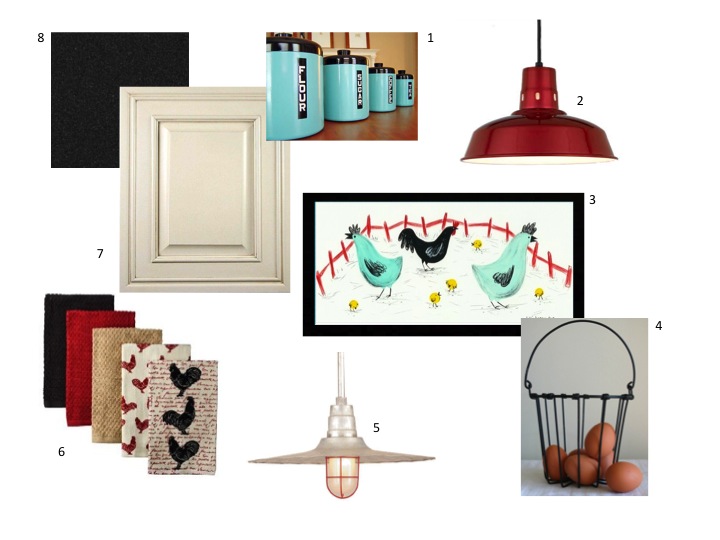 Clockwise:
1.) Turquoise Canisters: DIY Project via Decorology
2.) Barn Light Electric 12″ Vented Warehouse Pendant: $158.00
3.) Etsy Spring Chickens Poster: $13.00
4.) Etsy Vintage Black Wire Basket: $7.99
5.) Barn Light Electric 12″ Radial Wave Pendant: $208.00
6.) Target Room Essentials Rooster Kitchen Towels 5-pc Set: $9.99
7.) Custom Cupboards Sterling Raised Panel in Sheep's Wool: Price depending on kitchen size
8.) Surface Reproductions Sterling Black Granite: Price depending on kitchen size