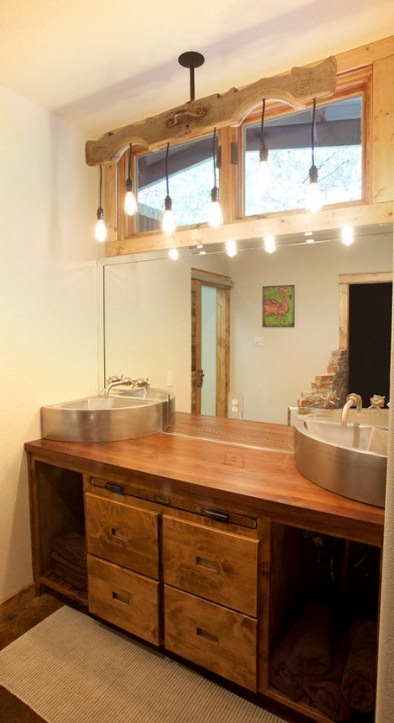 Industrial Style Pendant Gets Dressed Up in Texas Bathroom Vanity
One of the things people seem to love about bare bulb pendants is their consummate simplicity. Just a cord and a bulb doing what it was meant to do. Hung singly or in groups, bare bulbs fit in with design schemes ranging from vintage industrial décor to country farmhouse to urban condo chic. But who says you can't dress up the bareness of these pendants to suit your style? Check out what Erin Wright of Wright-Built did with some bare bulb pendants in the bathroom of this Dallas, Texas home.

Yep, only in Texas would you find a good, old-fashioned yoke-turned-light-fixture thanks to Erin's creativity.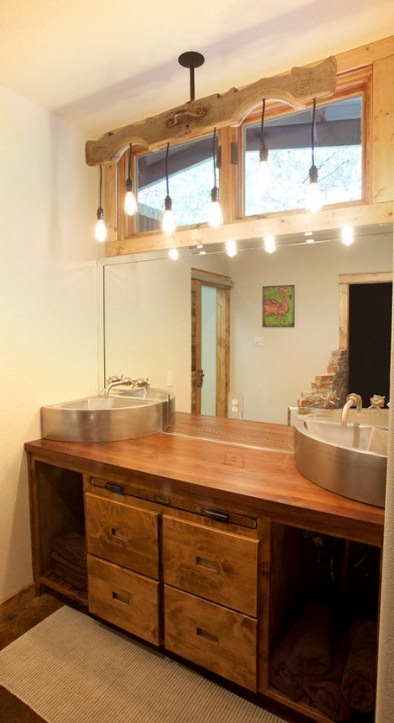 "We made the yoke," she says. "It was fun, and I love funky light fixtures." The half dozen pendants hanging from the yoke look very much like our Barn Light Indy Industrial Pendant. This replica of early industrial pendants features a simple style with a drop cord with the option of a turn key on/off switch. Though based on vintage styles, this light has a modern, minimalist feel. Customize your Industrial Pendant with a standard black or white cord or go with something a bit more colorful like our red chevron, gray, or black cotton cord.
This American made light will boast even more personality with the addition of an authentic reproduction Edison Style Light Bulb. These bulbs comes in a variety of shapes, sizes, and styles including hairpin, spiral, and thread styles.
And if you like the bare bulb look but prefer a stem mount fixture, we offer the Retro Basic Porcelain and Galvanized Pendant. We came across several vintage Leviton Porcelain Keyless Ceiling Receptacles and designed them into a galvanized stem mount light fixture that would be perfect for any retro renovation project. And starting at $69, these fixtures are easy on the budget too!
Top photo courtesy of Erin Wright, Wright-Built