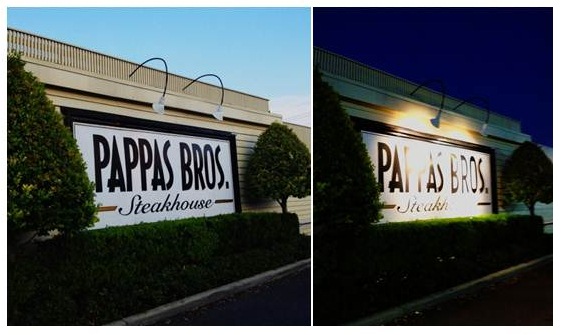 Gooseneck Angle Shades Look Classy Both Day and Night
When you own a commercial business, be it a restaurant or retail venue, you have many considerations for your exterior spaces to capture people's attention and draw them in. Landscaping is one way to spruce up the outside of a building as is bold, easy-to-read signage that can't be missed. When darkness falls, it becomes even more important to have a good commercial lighting plan not only to highlight the exterior features, but to keep your property secure as well.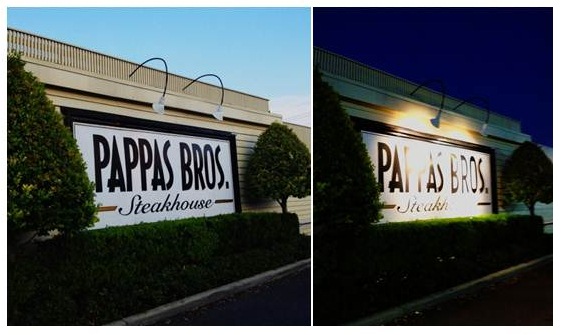 This popular Dallas restaurant has chosen plenty of greenery to soften the exterior wall of their building, and while the sign is tucked between these two trees, two gooseneck lights do yeoman's duty in bringing attention to the restaurant name, both day and night. These fixtures resemble our Frontier Angle Shade Light, part of our collection of Sign Lights. The Frontier Angle Shade is available in four sizes starting with an 8″ version which would work well for highlighting smaller, indoor signs or a hostess stand. Larger sizes, like the 12″ or 14″ models would be great for larger signs, landscaping, or over awnings. These American made lights are crafted from commercial grade materials and are rated for both indoor and outdoor locations. A dozen gorgeous finish colors can help take your commercial lighting s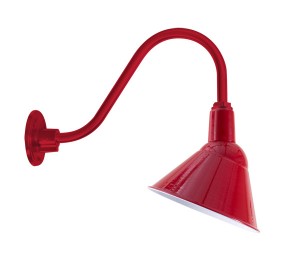 cheme from traditional to retro to modern with shades like Barn Red, Buttery Yellow, or Industrial Grey. Choose from a variety of gooseneck arm sizes, and if you need a custom size arm, just ask one of our knowledgable sales staff for help!
If you find yourself short on time and with a tight budget on your desk, consider our line of Discount Sign Lighting. Both Angle Shades and Emblem Shades are offered in two popular sizes and most will ship within five business days of your order so you can get your project completed on time and on budget!