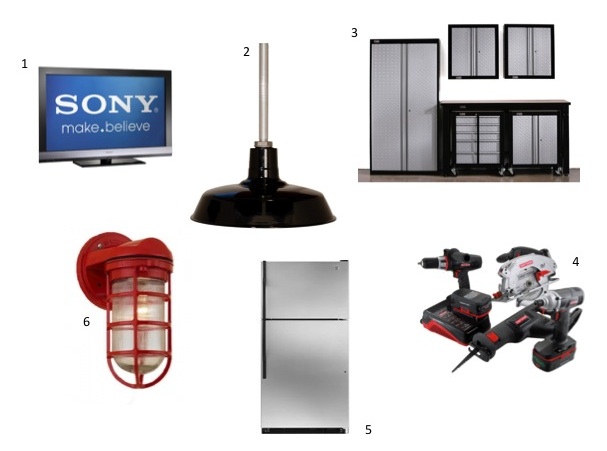 Industrial Strength Pendants & Sconces
So far, 2010 has allowed us so many new and unique opportunities; one of which has brought us to the national television scene. Our friends at DIY Network are entering season two of their popular series, Garage Mahal. With that on our minds, and the upcoming Father's Day Weekend, we thought what better space to pay attention to than the garage? Most of us haven't had the pleasure of winning an ultimate garage makeover, but if we did, it would be enough to make even Tim the "Tool Man" Taylor jealous.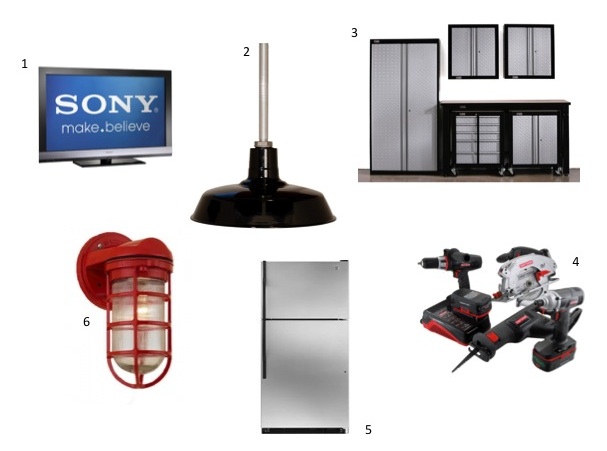 1.) Best Buy's Sony 32″ 1080p HGTV: $999.99
2.) Barn Light Electric Benjamin® Sky Chief Porcelain Pendant: $219.00
3.) Sears Stack On Gladiator Garage Storage: $770.99
4.) Sears Craftsman 11644 19.2 Volt 4 Piece Combo: $428.99
5.) Kenmore 20.9 Cubic Foot Refrigerator: $616.00
6.) Barn Light Industrial Static Topless Sconce: $135.00
Regardless if your father is a handy man or one who just tries his hardest; every man needs his basic tools for those small, "around the house" projects. Sears stocks a full line of quality Craftsman tools that can be purchased separately or in combo kits like the one we chose. Whether he has a multitude of tools, or your basic hammer and Phillips screwdriver, he's bound to need some storage to hide paint cans, lawn equipment, or car care products – for this we chose Sears Stack On Gladiator set. It's heavy duty, all steel construction and thread plate texture makes these units virtually indestructible.
Keeping with heavy duty, (almost) indestructible products we chose to outfit our space with our very own Barn Light Electric fixtures. For direct ceiling lighting, we selected our new line of Porcelain Enamel shades. Constructed of steel with a porcelain finish, the 16″ Benjamin® Sky Chief Warehouse Shade has been stem mounted for added durability. Its high quality, black porcelain enamel finish will resist the wear and tear of years of hard use, making these lights perfect for both residential and commercial purposes.
For bonus lighting, and to bring in some color, we chose our Barn Light Industrial Static Topless Wall Sconce. Wall sconces can be placed around the room and can add extra light where some pendants can't reach. The Industrial Static Topless lays close to the wall without extending out, risking the ability to get bumped around or broken. Don't let that mislead you from the durability of this sconce though; the red metal cast guard surrounds an interior glass jelly jar, which in turn protects the light bulb. This style of light has been around for years, becoming known for long lasting, durable units that have been used in industrial and coastal applications.