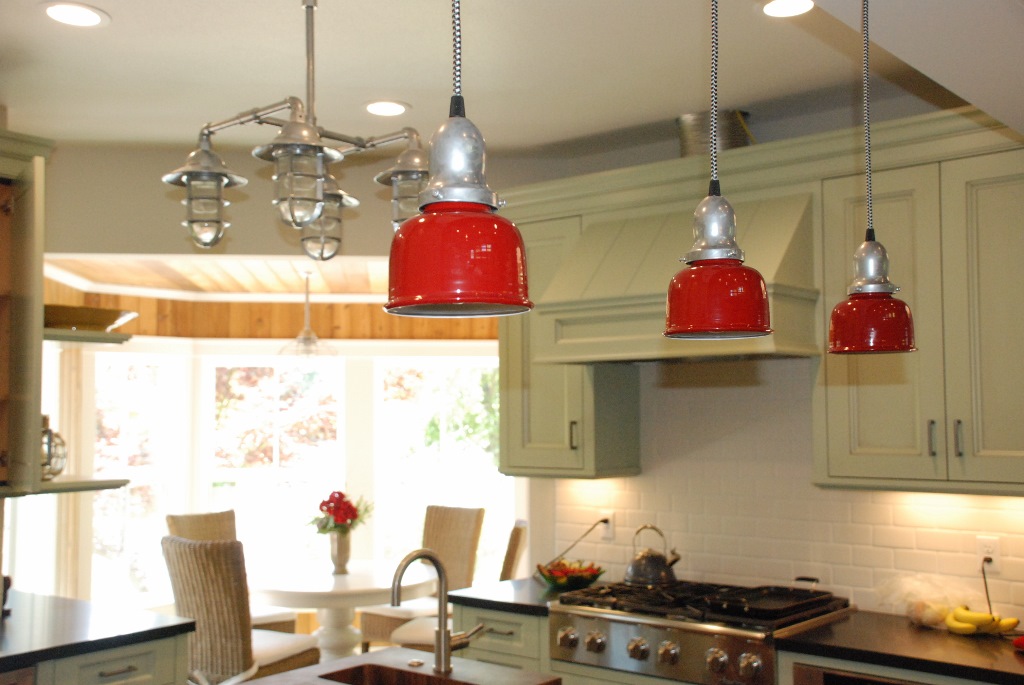 Industrial Pendant Lighting Easy to Customize for Variety of Styles
Do you describe the industrial style as crisp, clean, and hard working? Or does it seem more cold, raw, and unfinished to you? No matter what your take, the industrial trend has taken the design world by storm and can be seen not only in big-city lofts but in beach-side cottages, midwestern farm homes, and in retail stores and restaurants across the country.
Industrial style has a humble feel showcasing the perfect fusion of form and function. But if you're on the cold and unfinished side of the debate, we have good news for you. You can get the rugged, unassuming look of an industrial pendant with enough color and style to win you over in no time!
Check out this lovely kitchen which was featured last month on the blog. This Featured Customer wanted something simple and industrial for her breakfast bar but something artistic too. The Brewster Pendant fits that description perfectly with its clean-cut, streamline three-ring design.
Tess went with the Galvanized finish, typical of many industrial pendant lights, but softened the look with frosted glass. With more than 30 finish colors to choose from and an array of colored cloth cords as well, you can give this industrial pendant a personality to match any space.
For a nice blend of warehouse lighting with an industrial kick, don't miss the Sydney Pendant Light. Shown here in a classic Bronze finish with a matching Bronze cast guard, the color adds a touch of tradition and richness to the fixture. The Sydney comes in four shade sizes, more than 20 durable powder coat finish colors, and more than a dozen cord options.
How about these cute little Fargo Pendant Lights? With the pop of Red against the Galvanized cup, this industrial pendant light can hold its own in the kitchen and complements the stunning Foundry 4-Light Chandelier in the background!
You can add a splash of fun to your industrial lighting thanks to some vivid colors available in our powder coat palette. The Canal SoHo Pendant, for example, is an American-made, cord-hung pendant suitable for kitchens, bathrooms, kids' rooms, and enclosed porches. In 20 finish colors ranging from soft Lavender to bold Magenta, this industrial pendant is sure to bring a smile every time you see it!