Industrial Pendant Lighting Adds Personality to Modern Kitchen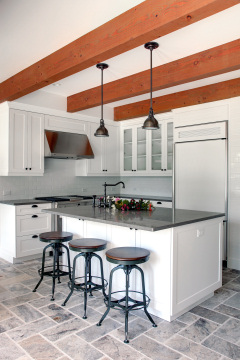 The kitchen is one of the most remodeled rooms in the home mainly because so much time is spent there by every member of the family. No other room in the house, with the exception of the bathrooms, gets as much traffic. It's no wonder that even in today's real estate market, the homes with kitchens that have the most updated appliances, a good floor plan, and visually appealing fixtures sell the quickest.

In this modern kitchen, the stainless steel appliances, sleek black countertops, and white cabinets are softened by the warm wood of the exposed beams and the vintage industrial pendants suspended over the island. The industrial style stools also lend an old world touch with their dark wood seats. These pendants are similar to the Barn Light Electric Times Square Pendant, part of our line of Vintage Pendant Lighting. The metallic finishes available for this fixture are uber modern yet the shade style is definitely a classic. These pendants are often found in both traditional and contemporary homes.

This style of pendant lighting is best used in groups of two or three. This allows each pool of light to overlap slightly on the island or workspace thus eliminating any dark spots. And by having your electrician install dimmer switches on these pendants, you not only save electricity, but have complete flexibility in choosing the proper lighting for every moment spent in the kitchen. The morning rush out the door may need full lighting, but a quiet cup of tea before bed is best enjoyed under a more subtle glow.
The Times Square Pendant comes in three sizes from a diminutive 8-inch size to a large 14-inch model. Four metallic finishes are available so you can choose just the right look for your kitchen space.
Top photo courtesy Yankee Post & Beam