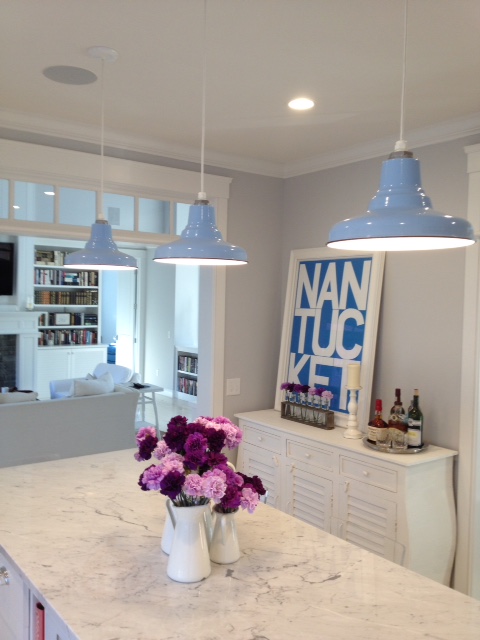 Kitchen Lighting Pops with Glossy Blue Porcelain Pendants
When Lisa purchased a small, older home on Cape Cod, she hoped to simply expand the space to suit her needs. But, on the advice of her builder, Lisa started from scratch and rebuilt.
"Since the house is on the Cape, I definitely wanted it to be beachy and casual," Lisa says. "I wanted an all-white palette with pops of color coming out in the lighting and accessories." The new, open floor plan includes a kitchen space that is the hub of activity. Although she initially chose some chrome-and-glass pendants for the island, Lisa started seeing barn lighting on Houzz and was intrigued. She dug into the Barn Light Electric website and, upon finding our porcelain enamel collection, knew it was exactly what she was looking for.
"I immediately fell in love with them and the colors that are offered," she says. "I love blue and the Delphite Blue color is stunning. The shine of the porcelain finish really put me over the edge and I knew I had to have them."
Lisa chose the classic Union Pendant Light for the island. She customized these hand-spun lights with a 12″ shade, the Delphite Blue finish color, and a white cotton cord.
"The color is just so soothing and lovely and a bit retro," Lisa notes, "plus it reminds me of the ocean." Barn Light's collection of ceiling pendants is perfect for kitchen lighting thanks to an array of customizing options including an artist's palette of finish colors, cording options, and add-ons like a wire cage or cast guard and glass.
"They have a casual look to them but they demand your attention. I like the soft curve which gives them a great design but keeps them soft," Lisa says. Our exclusive line of porcelain enamel lighting, which includes gooseneck lights, pendants, and wall sconces, are all hand crafted from commercial-grade steel then coated with three layers of porcelain enamel glass. This rugged finish can stand up to the heat and moisture of the kitchen, any work environment, and even the great outdoors with minimal maintenance.
"Lighting was so important to me because the lighting you choose can really dictate the feel of the house," Lisa says. "Everyone who comes into the house always comments on them. They make a statement whether they are on or not, and I love how they look."
Photos courtesy of the homeowner