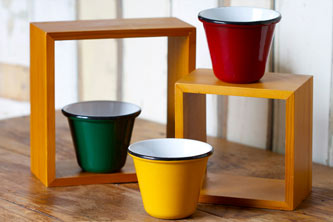 Industrial Home Decor Offers Style and Functionality
If you're a regular reader of our Porcelain Blog, you probably know all about our porcelain enamel lighting. How it's American made and hand crafted right here in our manufacturing center in Florida. How our own metal artisans hand spin the shades and hand apply the layers of porcelain enamel glass. And how the shades are baked in our special porcelain oven that reaches temperatures of up to 1,600 degrees to create that shiny, hard-as-nails finish that will never fade.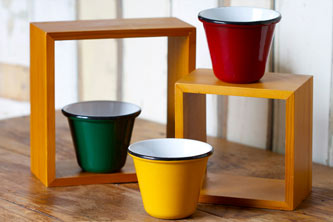 But did you know that we also make Porcelain Enamelware Cups using this very same, meticulous process? These cups are one of the newest additions to our Industrial Home Utility collection and feature the same shiny and durable finish as our porcelain enamel lights. These cups are meant to last a lifetime and can be used in many different spaces.
Kids can choose their favorite color for their very own bathroom cup. Put one on the table by the front door to hold those keys you're always searching for. Lipstick and mascara tuck neatly into a porcelain cup on the bureau. Think outside the house and use these 4″ wide beauties to start some seeds growing this winter! Choose from the same nine gorgeous porcelain finish colors that are offered for our lights — everything from creamy Jadite, bold Cherry Red, to bright Cobalt Blue.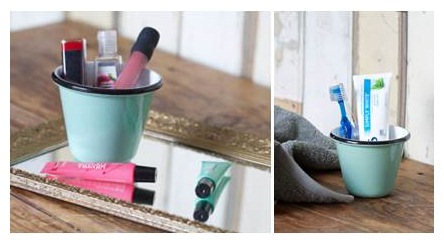 And while you're looking for ways to add to your industrial decor, don't miss out on the rest of the collection which is chock full of vintage inspired wire & metal baskets, canvas carry-alls, attractive storage containers, and mirrors. These industrial home decor accessories will bring a rugged style and utilitarian functionality to any home and you can take advantage of our Free Shipping offer during our annual Holiday Sale starting this Friday, December 21st and continuing through Friday, January 4th. Enjoy Free Shipping on any purchase plus save an additional 10% on any qualified Porcelain Enamel Lighting purchase!