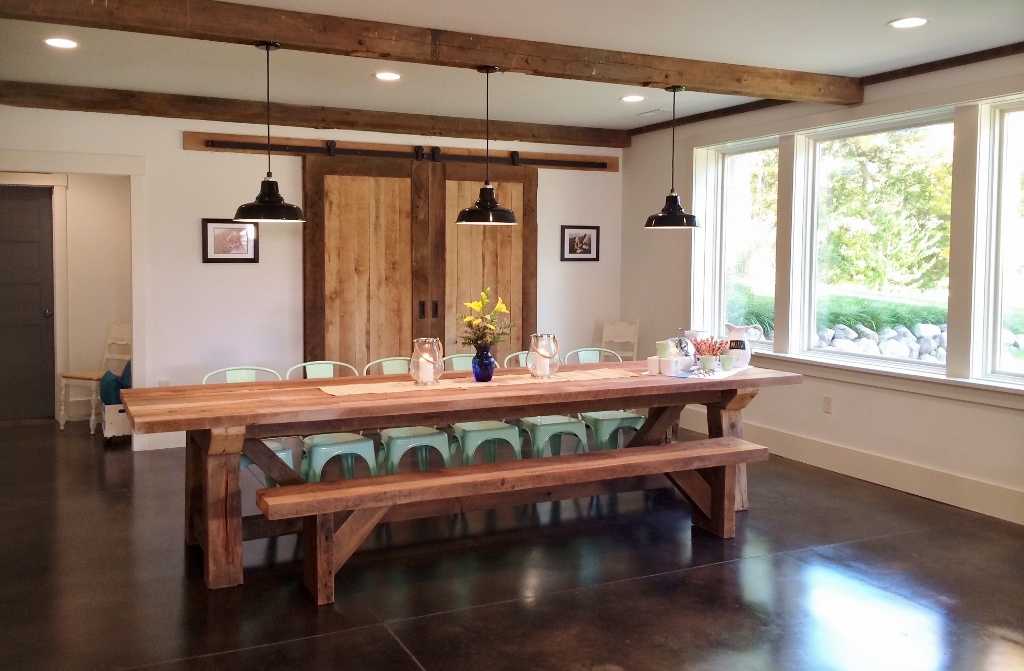 Industrial Farmhouse Makeover on DIY's Lake Life
One of the hottest shows on the DIY network is Lake Life which features brothers Nate and Justin Herman designing one-of-a-kind waterfront creations for their clients. Think double-decker docks with slides, hammocks over the water, outdoor kitchens, and even a 10,000-pound volcano man cave. It's creativity on steroids!
One of our favorite designers, Jowill Leano, who once made magic happen on Extreme Makeover: Home Edition, is helping this wild duo with some creative tricks of her own. She pitched in on the Lakeside Hideaway located in Hanna City, Illinois.
"The homeowners have a big extended family which includes about 18 children," Jowill says. "The house is in the country and had an unfinished basement right off the lake. We wanted to create an environment that was welcoming, could seat all the children during special events, and was easy to maintain."
Jowill and the homeowners both love a modern farmhouse feel so they drew inspiration from that style. Jowill turned to our Porcelain Pendant Lighting collection to find the perfect ceiling lights to highlight a custom 12′ table the homeowner built.
"The Union is a gorgeous minimalist shade that combines both modern and farmhouse perfectly," Jowill explains. "We chose to go with a glossy Black finish to pop against all the beautiful barn wood we incorporated into the space."
The Union has roots in the classic RLM warehouse shades of the early 20th century and features a stacked neck design. American made and hand spun from commercial grade steel, this ceiling pendant light is finished with rugged porcelain enamel glass that will never fade and retains its high gloss finish with minimal maintenance.
With the dining area outfitted, Jowill turned her attention to the nearby bathroom which turned out to be her favorite part of the renovation.
"We wrapped the entire bathroom in board-and-batten barn wood and we used an Esso Pendant Light in creamy Jadite to create some softness," she says. "I love merging masculine and feminine styles and this was the perfect choice." The Esso is a compact warehouse shade suitable for smaller spaces such as this powder room. It can be customized with one of 11 brilliant and durable porcelain enamel finish colors and a variety of cord colors are available as well.
All of our porcelain enamel lights are hand crafted and customized to each customer's specifications. Because of this hands-on approach, occasionally a shade will come out of the porcelain oven with a blemish that will not pass our rigorous inspection. So we offer a line of Porcelain Factory Seconds where you can find an ever-changing variety of porcelain enamel pendants and gooseneck lights. These shades may have color variations, small chips, or bubbles but are fully functional and deeply discounted.
If you'd like to see the entire Lakeside Hideaway project, be sure to tune in to DIY on July 31 at 11pm or on August 5 at 1pm when this episode will re-air.
Photos courtesy of Jowill Leano and Backroads Entertainment