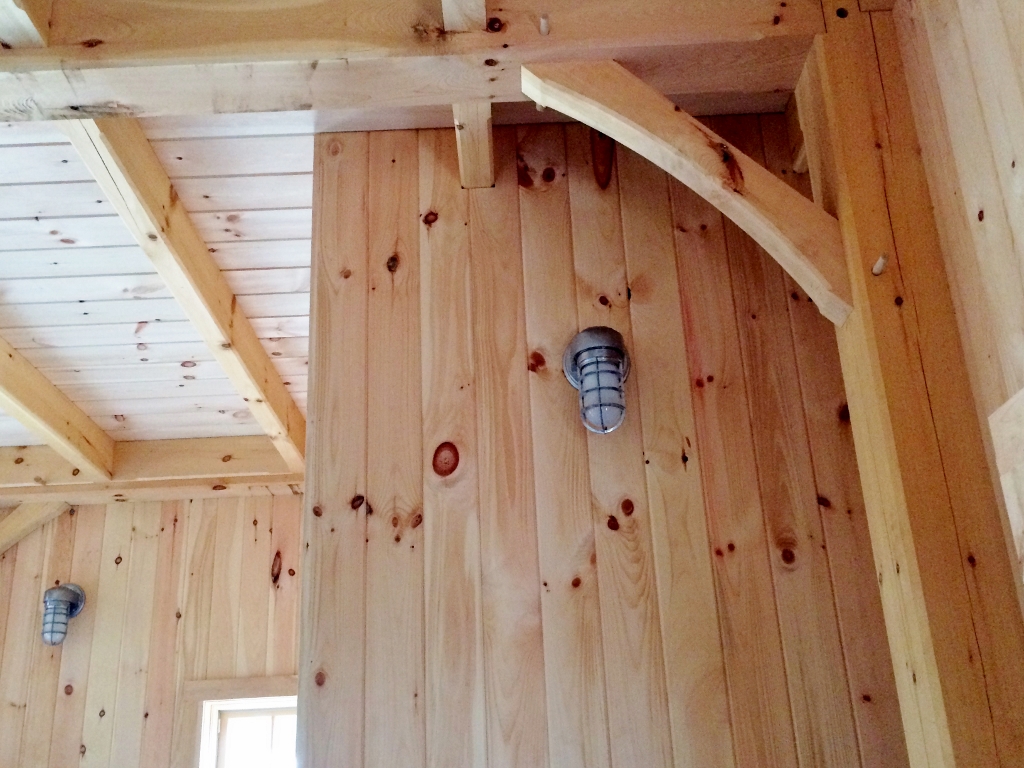 Industrial Wall Lights Grace New Post & Beam Barn
Storage space is a huge plus in any home, but if you find yourself in need of more, why add a closet or extra cabinet when you can build yourself a gorgeous new barn! That exactly what Kelly did out on Martha's Vineyard. Kelly needed more storage and work space so, with the help of a Vermont builder, she created a beautiful, new post-and-beam barn on the property.
"The timbers came from Canada," Kelly says, "and the finished space has a half bath, outdoor shower, and cupola." The two-story barn measures 24 X 30 offering plenty of room for bikes, lawn equipment, and even overnight guests if need be. Kelly wanted the design to have a coastal rustic vibe so she looked for industrial wall lighting to highlight the interior.
Ten Streamline Industrial Guard Sconces line the walls and provide the desired punch of industrial style. Kelly customized these American-made wall lights with a Galvanized finish, standard cast guard, and frosted glass.
Inspired by 1930's Streamline Modern style, this period wall sconce features sleek rounded corners and horizontal grooves and is constructed from commercial grade materials. The rugged backing plate secures the sconce to the wall with a 6.5″ projection. This compact wall light is perfectly suited for hallways, bathrooms, and laundry rooms and can be installed indoors or out.
"I love the solid feel and look of the wall sconces plus they add to the coastal rustic vibe I wanted," Kelly says. This Streamline Industrial Guard Sconce is just one of our ever-growing collection of Wall Sconces where you can find industrial wall lights with one, two or three fixtures suitable for vanities, porches, work spaces, and more.
A variety of glass options are available and, with a rainbow of finish colors to choose from, you can create a look from traditional to modern to retro or whatever suits your style. For more examples of rustic wall sconce lighting, don't miss our Photo Gallery which is brimming with customer photos!
Photos courtesy of the homeowner