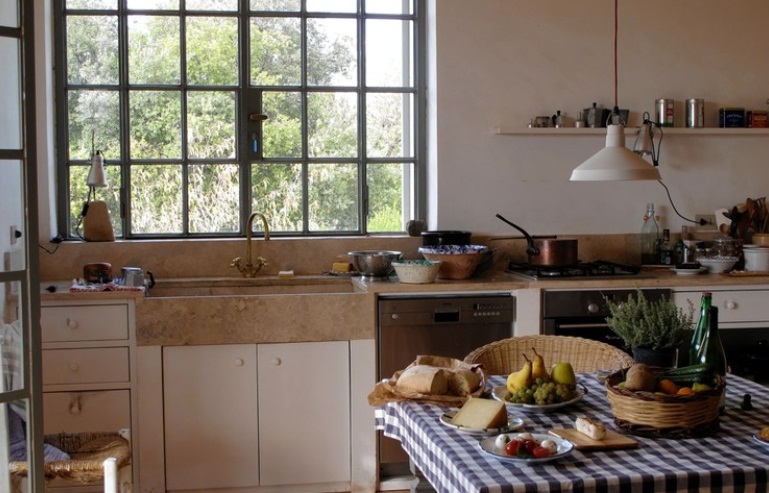 Industrial Cord Hung Pendant Adds Vintage Spirit to Kitchen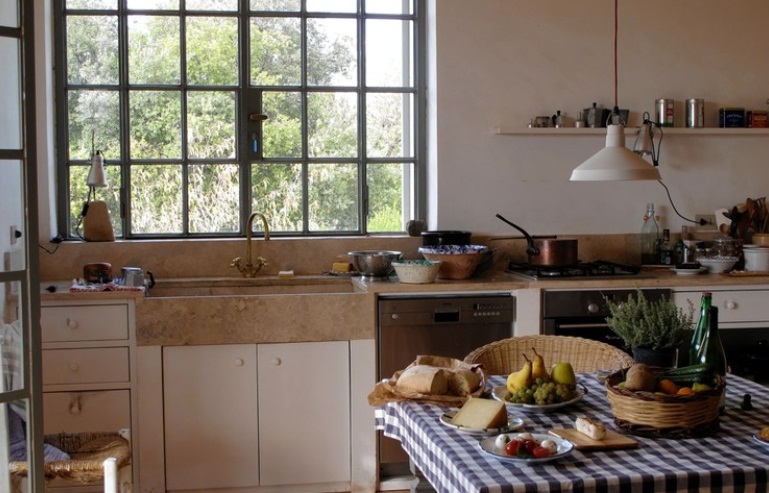 As you ponder the history and progression of American-made light fixtures — c'mon, we know you think about lighting as much as we do! — the classic RLM warehouse shade is one fixture that has stood the test of time and is as popular today as it was back in the 1930s and 40s when it was first manufactured. Take this inviting kitchen space that has all the spirit of the industrial farmhouse style with its big kitchen window, open shelving, and central table for dining, snapping peas, or just lingering over a morning cup of coffee. What better choice for lighting up the kitchen table than a classic warehouse shade much like our Industrial Twist Cord Warehouse Pendant, part of our collection of Vintage Industrial Lights.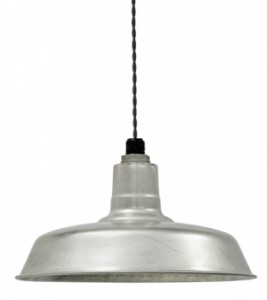 The Industrial Twist Cord Pendant is the ideal example of an antique RLM light with its wide, 16″ shade and colored cotton twist cord. The shade casts a downward span of light onto work surfaces which is why it was so popular in factories, warehouses, and over kitchen tables for snapping those summer veggies! Choose from four traditional finish colors — Galvanized, Black, White, and Dark Green — and customize your cord with Black, Brown, Putty, or a three-strand Black for added texture. To add even more vintage flavor to your fixture, consider adding a wire cage or an authentic Edison Style Light Bulb.
To get this look in a commercial kitchen or restaurant, consider the Farm & Barn All Weather Warehouse Ceiling Light Fixture, part of our collection of Discount Barn Lighting. All Weather Lighting is ideal for commercial lighting plans as each fixture is constructed of corrosion resistant metal that can withstand wet or dry locations – meaning it's perfect for indoor and outdoor use. Brighten up both your indoor dining areas and outdoor patio seating with classic barn lights that are easy on the budget and delivered quickly too!
Top photo courtesy of Sally Gall for the Wall Street Journal