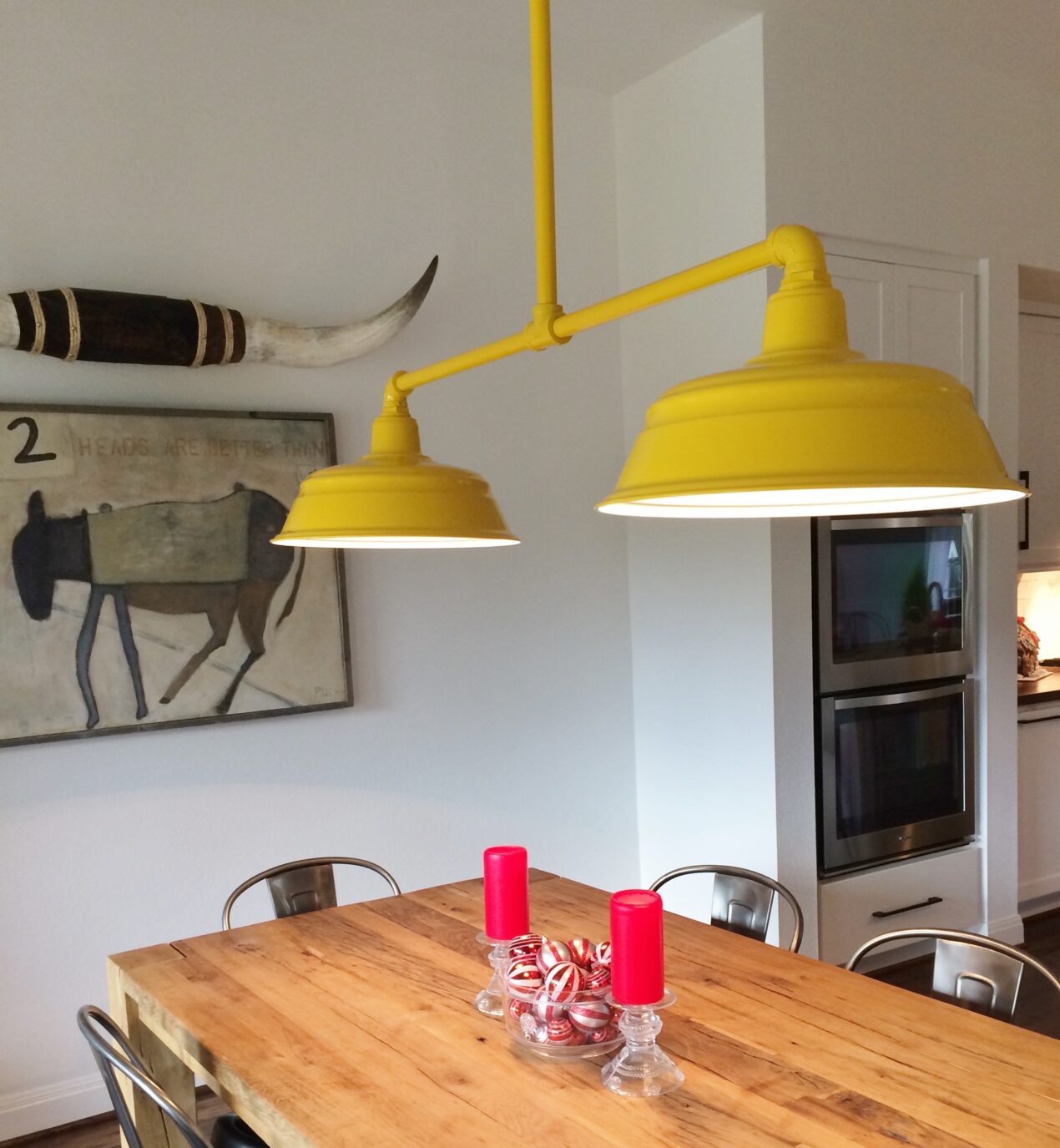 How To Incorporate the 2021 Pantone Colors in Your Décor
The phrase "happy new year" means so much this year. While everyone on the planet had to dig deep for the strength to get through 2020, there's a hefty dose of optimism that this year will truly be better.
The annual Color of the Year presented by Pantone plays perfectly into these sentiments. Two colors — Ultimate Gray and Illuminating — share the spotlight for 2021. With its natural, warm hue, the gray exudes strength and practicality while the bright yellow offers the promise of brighter days ahead.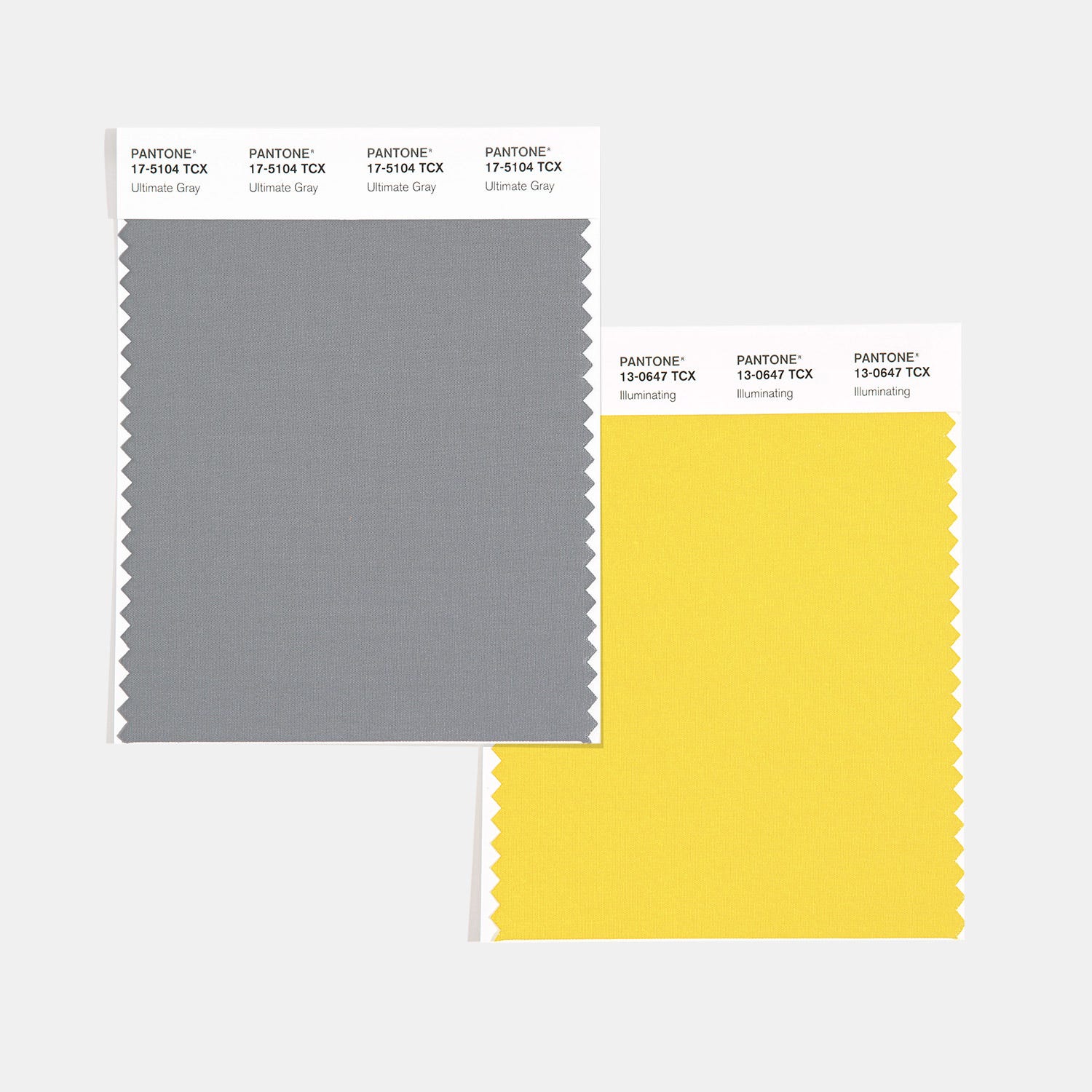 The Barn Light Electric palette of finish colors includes several tones of grey and yellow including Graphite and Yellow in our porcelain enamel finish and Industrial Grey and Buttery Yellow in the powder coat option.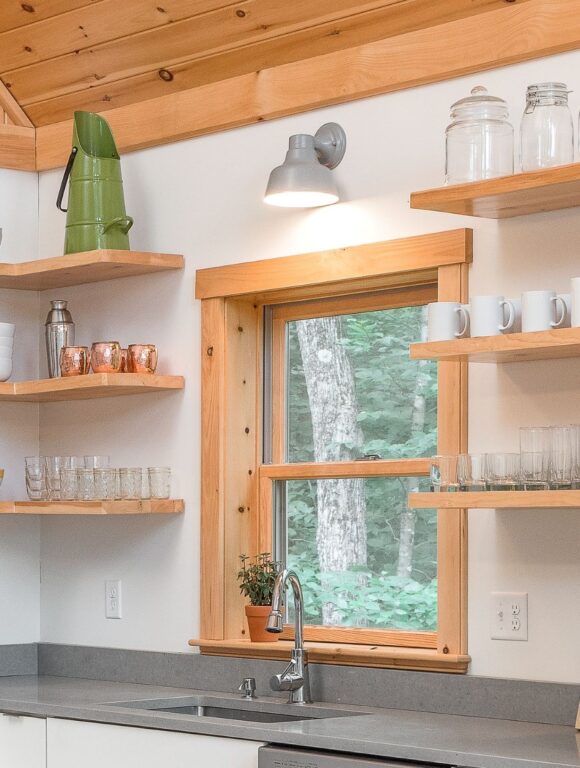 Hanna used touches of grey in her new kitchen including Caesarstone countertops and the Bowie Wall Sconce above the sink. The 8″ handcrafted Bowie sports the Industrial Grey powder coat finish.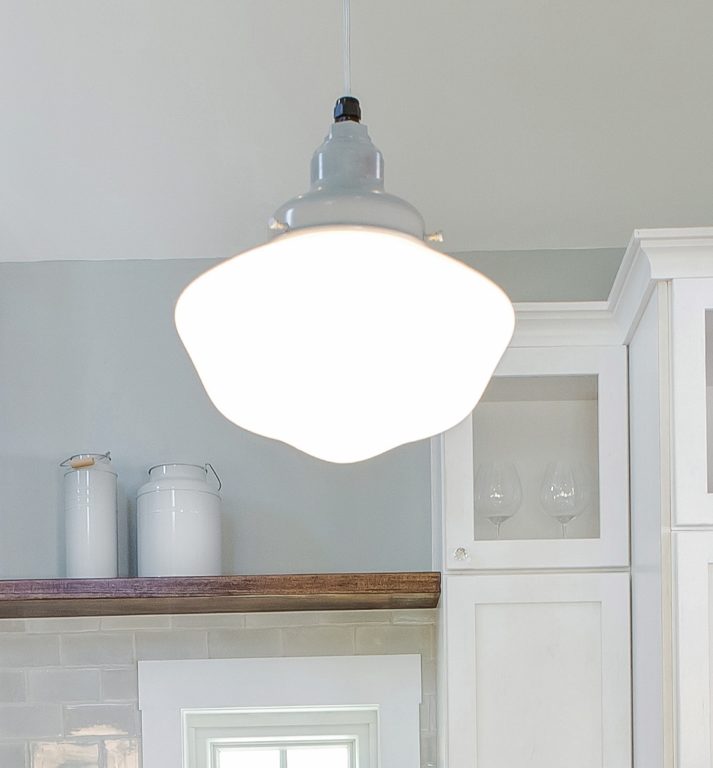 This Primary Schoolhouse Pendant Lightnot only features the Industrial Grey finish on the fitter but a matching grey cloth cord adds to the texture and visual interest.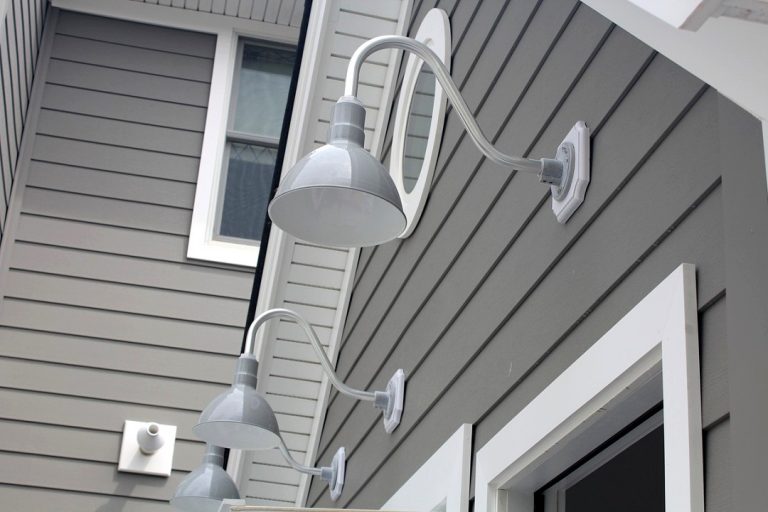 The designer for this pool house chose the Wilcox Deep Bowl Gooseneck Light to highlight the doorway. These American-made wall lights feature 10″ shades, G15 gooseneck arms, and the Industrial Grey finish which pops nicely off the darker grey façade.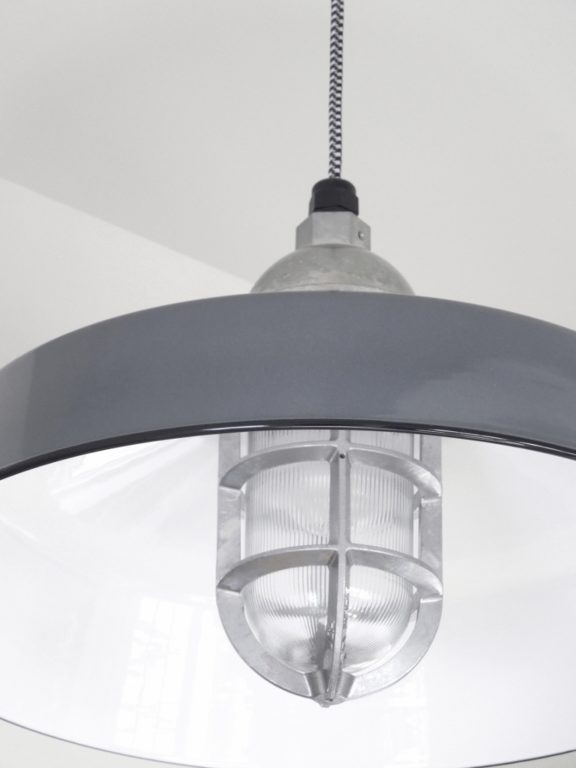 If you prefer a bit darker shade of grey, the Graphite finish, shown above, is available in the porcelain enamel palette of colors.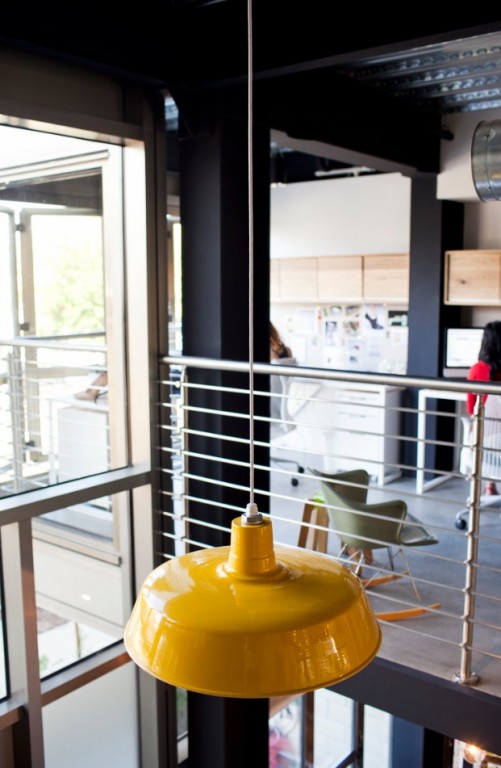 Pantone's shade of yellow called Illuminating is a bright and happy hue. To get the look, consider our Buttery Yellow finish shown here on our 24″ Original™ Warehouse Pendant Light.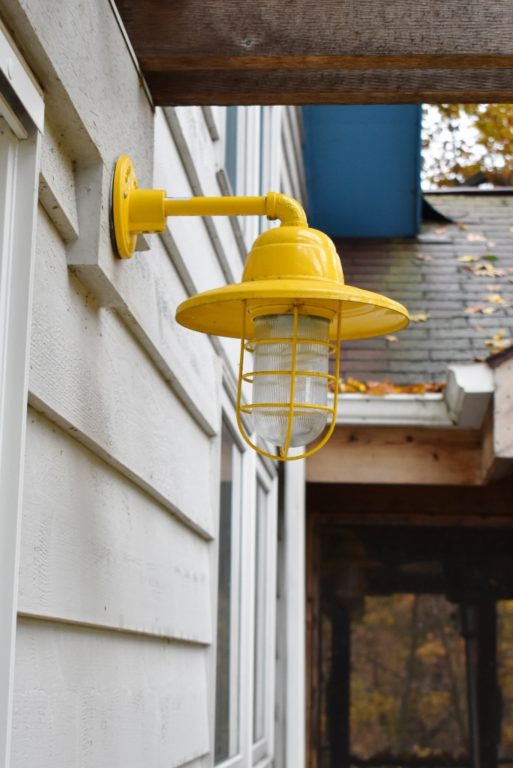 Paula's home features the Pantone mix of grey and yellow with soft gray siding accented by Industrial Guard Sconcesalso in the Buttery Yellow finish.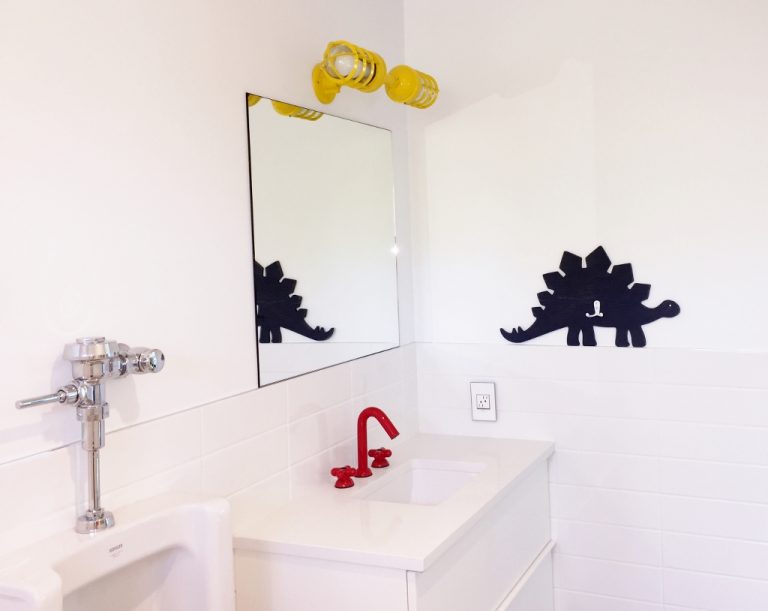 And while this bathroom keeps a neutral base of white and grey with the tiles, plumbing fixtures, and cabinetry, the faucets and lighting add a playful element to the space. The Atomic Topless Double Industrial Guard Sconce highlights the vanity with its happy pop of Buttery Yellow.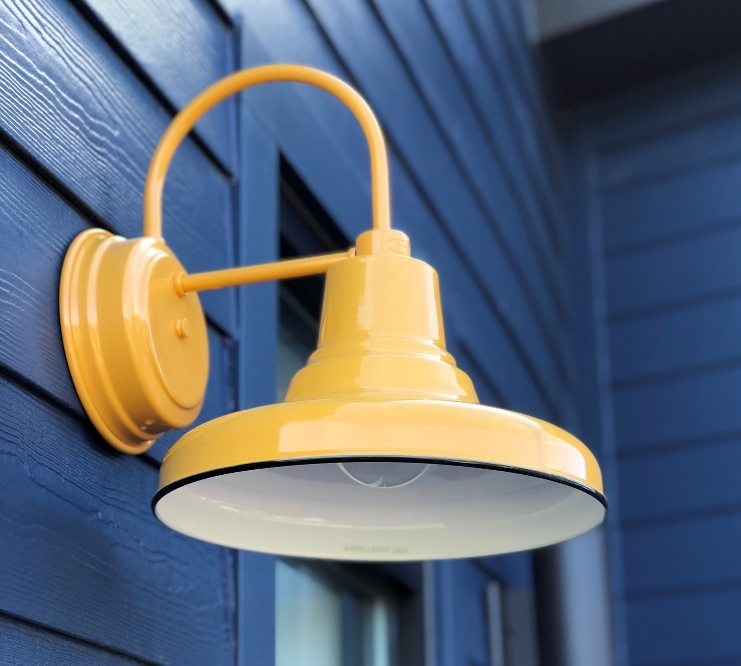 For a high-gloss look, choose the Yellow option in our line of porcelain enamel finishes. This Union Wall Sconce, which features a 12″ shade, will never fade and is easy to maintain. A simple soap-and-water cleanup will keep this glossy finish looking brand new for years to come!